Posts Tagged 'Christmas tree'
Walkin' in a Kitty Wonderland Photo Winners!
Our friends at Purina and Petco offered  some great holiday decorating tips for you in their latest edition of Purina Purr.  I was super curious how you and your cat decorate for the holidays and asked you to share with me photos of your cat and any special holiday decorating you do with your feline friends in mind.  I want to thank all of you that sent in super cute images of  your cats.  There were so many to choose from that we allowed independent judges to choose the winners.
Miranda's Missy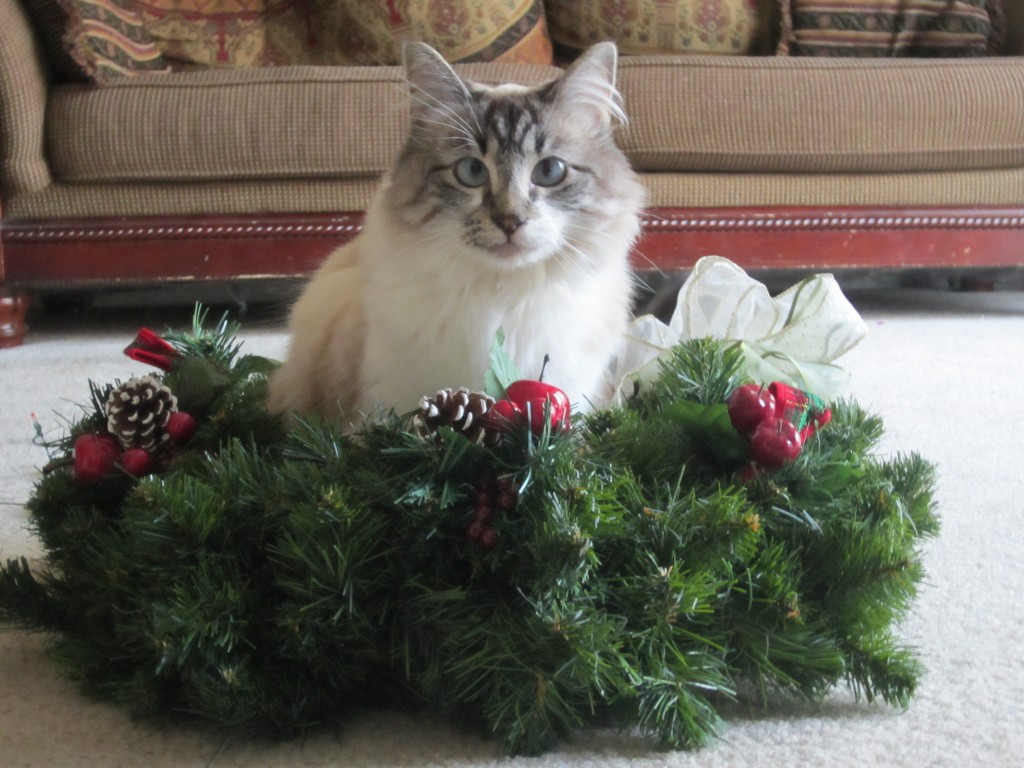 Super cute Missy is the center of attention in the middle of this wreath!
A cat is said to have nine lives, and the reason according to Brewer's Dictionary of Phrase & Fable is that cats are "more tenacious of life than many animals, because a cat generally lights upon its feet without injury."   Even if we cats are tenacious, we are vulnerable during the holiday season when decorations are placed, plants arrive and the festivities begin. If you share your habitat with a feline family member, there are a few things that you should check to make sure the holiday season is safe for every member of your family.
Cat Safety Check for a Happy Healthy Holiday Season.
Holiday Plants:
I talked about the most common holiday plants and their toxicities to cats in a previous post. I listed the  Amaryllis, Holly, Lily, Mistletoe and the  Paperwhite Narcissus.  The Poinsettia often rumored to be highly toxic actually is considered to have a low toxicity for cats along with the Christmas cactus. If you are uncertain about a plant and are concerned that your cat may have eaten something dangerous, call  your veterinarian or the ASPCA's animal poison control center at 888-426-4435.
The Christmas Tree:
Real trees pose a threat because pine tree needles can be dangerous to a cat if ingested.  Christmas tree water that keeps a cut tree fresh can contain chemicals that can make cats sick.  Be sure your cat can't get access to the water in the tree stand.
Hanging ornaments:
Ornaments can be a temptation for most cats.  The shiny, swinging movement alone makes the ornament irresistible to  cat paws. Make sure your low hanging ornaments are cat friendly and are not made of materials that your cat can chew or otherwise ingest.  Be careful of low hanging glass ornaments too as they can shatter when they are batted off the tree causing injury to paws and feet and even worse if the cat were to ingest any of the pieces.
I have been a naughty  tiger this morning, so now our sunroom Christmas  tree is being guarded by Lazy Leopard behind locked doors. As you can see, we didn't get very far in the decorating process. Friends, I try to behave, I really do but shiny objects in such close proximity to fig tree dirt get me stirred up! Now we are writing in the office. ~sigh~ Are you behaving?