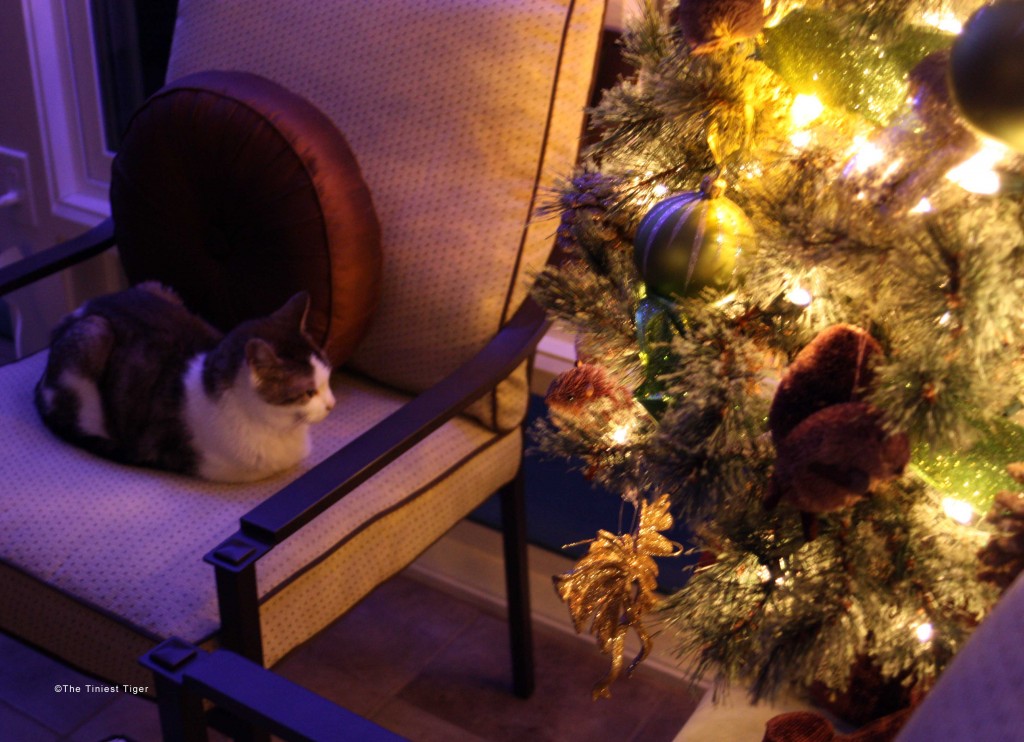 Years ago we had live Christmas trees.  When Hazel came to live with us, we decided after the tree came tumbling down that perhaps an artificial tree might be a better solution.  Not only for our ornamnets' sake but to keep her safe too.  Pine needles are quite sharp  and might even cause internal injuries if ingested and they are potentially toxic to cats. The tree water  is also dangerous for cats to drink because it is full of pine resin and possibly flame retardant chemicals.  You can wrap aluminum foil around the  tree trunk to keep your cat from scratching or climbing and out of the water but we decided it was too stressful worrying about Hazel and opted for an artificial tree.
Switching to an artificial tree eliminated the tree water but there are still  other dangers lurking for your cat.  Your cat may still try to climb the artificial tree, chew on the light cords, and possibly step on broken ornaments. And your cat might decide to chew on the branches of your artificial tree too.
What is a cat parent to do when it comes to the Christmas tree?
This will be Annie and Eddie's first Christmas. After observing them the last few months, Paul and I decided not to have a tree this year.  We have a smaller tree that we have put up in the past with cat friendly ornaments, but we think a tree with ornaments will be too tempting for the kittens, Annie in particular. We didn't have a problem with Gracey and the Christmas tree but with Annie we decided it was not worth the risk.  If you decide to go ahead and trim a tree, here are a few tips to help you make your Christmas tree safe for your cat.
Opt for a smaller tree
You might consider putting up a smaller tree so that your cat doesn't feel inclined to climb up inside the tree and if the tree should get knocked down, the damage would be less from a 3 foot tree than a 7 foot tree.
Place the tree in the corner
Placing the tree in the corner guards at least two sides of the tree.  Make sure the tree is away from other furniture that can be used as a spring board for leaping into the tree.  I know some folks who have actually tethered their tree to the wall and ceiling making sure the tree is stable and not able to be knocked over by a rambunctious feline.
Citrus deodorizers and orange peels
Cat's don't like the smell of citrus.  I have not tried this but have read that placing a citrus air freshener at the base of the tree and putting orange peels on the branches might make the entire tree less interesting for your cat.   This is also a recommendation for keeping cats out of your flower beds by the way.  Placing orange peels in your garden might keep cats out of your plants.
Choose cat friendly ornaments
Shiny bright Christmas tree ornaments are beautiful but they are just too tempting to your cat.  They really can't help themselves.  If you place shiny dangling ornaments on your tree's lower branches, I am not sure we can blame the cat if they get swatted and broken.  Adorn the lower part of your tree with unbreakable  ornaments.  There are many options to choose from and your tree can be quite lovely and safe for your cat too.
Just say no to tinsel.
Tinsel is just too sparkly and enticing for your cat.  Tinsel and icicles if ingested by your cat can cause serious problems possibly requiring  emergency surgery.  Just forget the tinsel.
Try a bitter apple spray on  electrical cords.
If your cat decides to chew on electric cords, you might try using a non-toxic bitter apple spray. This is the same type of product that is used to discourage kids from sucking their thumb or biting their nails.  You can find Bitter Apple Spray at most pet supply stores.
I hope you found these tips useful and if you have other tips, please feel free to share them too.  Will you be putting up a tree this year?
Don't miss out on The Tiniest Tiger News :
Subscribe to our newsletter