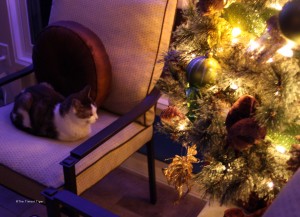 Years ago we had live Christmas trees.  When Hazel came to live with us, we decided after the tree came tumbling down that perhaps an artificial tree might be a better solution.  Not only for our ornamnets' sake but to keep her safe too.  Pine needles are quite sharp  and might even cause internal injuries if ingested and they are potentially toxic to cats. The tree water  is also dangerous for cats to drink because it is full of pine resin and possibly flame retardant chemicals.  You can wrap aluminum foil around the  tree trunk to keep your cat from scratching or climbing and out of the water but we decided it was too stressful worrying about Hazel and opted for an artificial tree.
Switching to an artificial tree eliminated the tree water but there are still  other dangers lurking for your cat.  Your cat may still try to climb the artificial tree, chew on the light cords, and possibly step on broken ornaments. And your cat might decide to chew on the branches of your artificial tree too.
What is a cat parent to do when it comes to the Christmas tree?

Super Hurrah to Sherree and Maria the Winners of the Lion and Tiger Bags!!!!
Happy Halloween!
Tonight we will be passing out treats in our neighborhood so Bad Kitty and I thought that we would like to have a Trick or Treat Giveaway here on our The Tiniest Tiger Conservation Cub Club!  So we have packed two treat bags, one Tiger and one Lion full of feline fun and savings! There are cat toys, and snacks as well as a few items for cat parents too!
Some of our friends are ready for Halloween fun too.