Posts Tagged 'Iams Home 4 the Holidays'
Boots Adoption Story
Thank you to Helen Woodward Animal Center for sharing this wonderful story of pet adoption from their Most Heartwarming Story Contest . Boot's story was submitted by The Society to Protect Animals, an Iams Home 4 the Holidays participating organization, in 2007.
Happiness for a Blind Kitten
Attention Bloggers!
Su
per Hurrah!
We generated 10,200 Meals for our cousins in need!
When You  Show Your Support by Joining  the  Iams Blogging 4 Bowls Blog Hop
Iams will Donate 100 Meals!
Iams Home 4 The Holidays Kicks Off Its' 13th Annual Pet Adoption And Bags 4 Bowls Program
Iams Home 4 the Holidays, one of the world's largest pet adoption programs, kicks off its annual adoption drive today in partnership with Helen Woodward Animal Center, with the goal of finding homes for 1.5 million orphaned pets.  Now in its 13th year, the program, which runs from October 1, 2011 through January 3, 2012, has helped 5.8 million pets find loving homes all around the world.
Iams and Helen Woodward Animal Center are teaming up again this year with more than 3,500 animal organizations worldwide to encourage pet adoption.  In addition, Iams will also donate 5 million meals to animals in need at adoption and rescue centers through its Bags 4 Bowls program.
While finding loving homes for orphaned pets is critical and the core of the program, the campaign is also designed to provide shelters and rescue centers with much needed food donations. With the help of consumers, the Iams Bags 4 Bowls program aims to donate 5 million meals to animals housed in participating organizations.
A few weeks ago, my mom and Flat Gracey, my stunt double, had the privilege of  meeting Mike Arms, president of
the Helen Woodward Animal Center in San Diego. The Helen Woodward Animal Center is an amazing, private, non-profit organization dedicated to saving the lives of animals.
You might recognize the name from our participation in the Iams Home 4 the Holidays! Last year our small paws united to provide 32,375 meals for our cousins in need! The Helen Woodward Animal Center has partnered with Iams to make the Home 4 the Holidays a worldwide movement!  Get ready to pounce again this year
Mike Arms is a super smart big hearted animal lover and  is leading the way by setting the bar for animal centers. Notice that he does not use the word animal shelter, he uses the word  animal center.  The Helen Woodward Animal Center is an all-inclusive "center" that provides for the community's animals, people and education of children.
I was tagged by our friend Carol Bryant of Fido Friendly to be a part of The 7 Links, Tripbase Blog Post Project. I was honored to be tagged by Carol to share 7 links from our Conservation Cub Club blog.  This took me some time to decide which posts to choose for each of the categories.  I hope you like the posts I have chosen.
At the bottom are 5 blogs I have tagged to take the torch and run with their 7 best links.  Thank you for reading The Tiniest Tiger's Conservation Cub Club.
MOST BEAUTIFUL POST:
Lion Guardians Give Each Lion a Maasai Name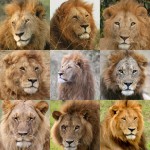 It was super tough for me to choose, but I chose this post with all the African Male Lions as the Most Beautiful. Our  wild lions are in trouble and the Lion Guardian Project is showing great promise for the conservation of the big cat. One of my favorite things about the project is the naming of each lion. The naming and telling of stories about each lion emphasizes the individuality of each cat. It is also much easier to forgive the lion for preying on livestock when you know the name and unique traits. I asked  the readers to tell me which lion caught their eye and why. They are all handsome, don't you agree?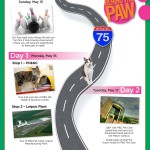 Super exciting news!
I am sending my mom to Iams and Eukanuba's Behind The Paw!
Our Friends at Iams have been super generous helping our cousins in need.  We participated in the Iams Home 4 the Holidays where just by leaving a comment, Iams donated 25 meals to a shelter in need!   We are now completing our  Iams Premium Protection Senior Cat for PurrEver Ranch Sanctuary drive. Again, our friends at Iams stepped up and are generously donating meals to our senior citizen cousins at PurrEver Ranch.  I know that Rita and the cats at PurrEver Ranch are  grateful to be receiving this high quality food created specifically for senior cats.

Thank you to everyone that participated in our Iams Home 4 the Holidays! Your comments and photos uploaded on our The Tiniest Tiger Facebook page generated a total of:
32,375 MEALS for our Cousins in Need!
Thank you Iams and Thank you Friends!  Super Hurrah!!
Helen Woodward has partnered with Iams to make Home 4 the Holdiays a worldwide movement. This year's goal is to adopt 1.5 million animals and donate 5 million bowls of food to shelters in need and we can be a part of this movement and it is super easy for us!
Friends, we are now entering into the Holiday Season, and this time of year is extra special for me, Gracey, The Tiniest Tiger because it was on Christmas Eve that my parents found me on the cold wet cement floor of the local dog pound.  Some mean person tossed me out and I was not even weaned. I was shivering and sad when my mom scooped me up and tucked me under her coat.  Her warm sweater made me purr and I snuggled against her while they drove me to my new habitat.  I was super lucky and I never forget how fortunate I am to have a loving home and that is why I want to tell you about our Friends at Iams Bags 4 Bowls program.
Please tell us your pet adoption story in the comments section under this post now through November  12 and Iams will donate 25 bowls of food for each post!
Our Friend Michele at Pet News and Views did a fantastic job providing meals for cats and dogs and now it is our turn to follow in her paw prints and try to help our cousins in need.

Here is how it works:
Post a comment here.
That's all you have to do, honest! Comment on this post and Iams will donate 25 meals to a shelter in need. Any comment counts. (Only one per Friend!)
Please pounce on all of  your Facebook Friends because we  have ONE WEEK to gather comments. My goal between now and November 12th is 100 comments.

Our new goal is 200! We did it!

Our new goal is 300! Hurrah!

Our new goal is 400!

We did it! Super

Hurrah!

Our new goal is 500! WE DID IT!!! Super Duper Hurrah!

Can we make this happen for our cousins in need?  We can do it!!!
Dr. V from Pawcurious is doing a super job and I thought we could try to feed more animals too.  So because you know I like to play games with you, here is another way that you can feed shelter cats and dogs. Each @Iams tagged photo will generate 50 meals for our cousins in need!!!!
Upload a photo of your pet with a caption that says Dear @Iams, I am lucky indeed, and want to help feed my cousins in need!

Make sure the photo is tagged with @Iams to select their page. That tag is what will generate the 50 meal donation.

To get you even more excited, one lucky photo participant will be chosen to receive a Bissell Corded Pet Hair Eraser with my photo on the box!!!
Super Easy and Fun too!  Will you help me help our cousins in need?
Ready?  POUNCE!