Can a Cat Crash Super Dog Sunday?
The super bowl is this Sunday and this is a great day for snacking and snoozing on the sofa with my dad.  In addition to the football game and the commercials, there is Super Dog Sunday™ hosted by our good friends at Event Barkers.  You know Event Barkers from the super terrific job they do hosting our Red Carpet Cat Events!
Super Dog Sunday™ is an annual charitable event in which 100% of the proceeds  go to the Petfinder Foundation to help them find more homes for adorable cats and dogs. There is a great lineup of sponsors and participants can enter to win up to $1500 in prizes too!  Helping find homes for our cousins and win great prizes?  Put me in coach!
Put me in Coach I am ready to Play!
I got so excited  when Paris from dogtipper.com told me about this great event to help find forever homes for our cousins that I asked if a cat could crash the party and she said, I didn't have to crash, that cats are welcome too! So I am calling all cats to enter to help our cousins in need of loving homes.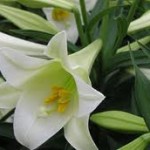 The Lily is lovely to look at but bad to chomp. Lilies, like many other plants are not good for Cats. There are no Lilies in my habitat.
Many will be celebrating Easter this Sunday and the Easter Lily is a part of the celebration. The Cat Fanciers' Association article about Lily Hazards for Cats, mentions that according to the Michigan State University Extension's Grower Guide, Easter Lilies are the third most important flowering pot-plant grown in the United States with approximately 11 million plants produced annually.
Happy Sunny Sunday Friends! I found some rays coming in the front door. Dad says it is too cold to have the door open for me, but Mom said it was ok for a little while. Mom must have missed the sun too. What are your plans?