It's Valentine's Day and it's still super cold outside so time spent in the sun room is limited.  Annie, Eddie and Mercy decided to use some of their pent up energy to create Valentine's Day Cards for you. We hope you like them.
Rain, Snow or Shine, You're My Valentine?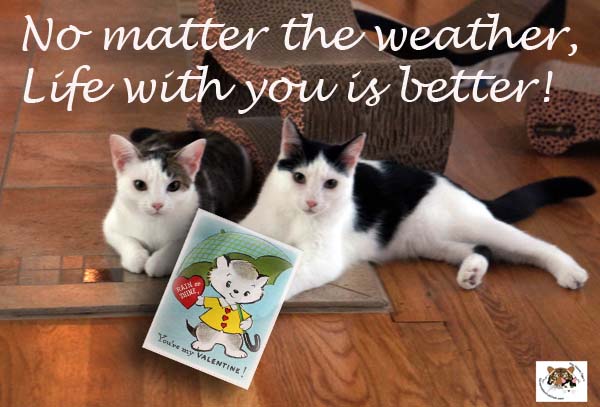 I liked this Valentine Card for you, but I think it should have read, Rain, Snow or Shine, You're My Valentine.  It is still winter here and we have snow everywhere.  Eddie thinks I am taking the sentiment too literal but I stomped my paw and we compromised with No Matter the Weather, Life With You  is Better.
Love is Everywhere!
Mercy loves us but sometimes he needs his quiet time too.  Annie and I had to coax him into participating in our Valentine card creation activity.  Mercy tells us he is older and wiser so he proceeds with extreme caution.  He reminds us that cats must stay vigilant and aware of their surroundings at all times.  You never know when you might get scooped up and smooched around here.  I don't mind it so much, but Mercy has his limits.
I Would Be Lion If I Said I Didn't Want You to be My Valentine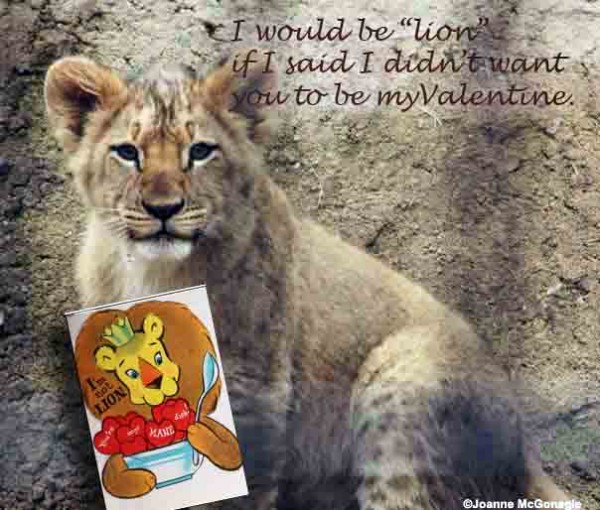 We know this is super corny,  but it still made us roar with laughter.  Get it?   I know, even more corny, right? Well,  the mane thing, we wanted to tell you is that…. hahahahaha…. did you see what we did there?  OK, we are sorry, we know these  words hurt like a thorn in your paw…. oh we can't stop.  Lazy Leopard is right, this is fun.  One last thing.  We would be "lion" if we said we didn't want to be your Valentine.   At least the lion cub is super cute, right?
Why Do Fools Fall in Love?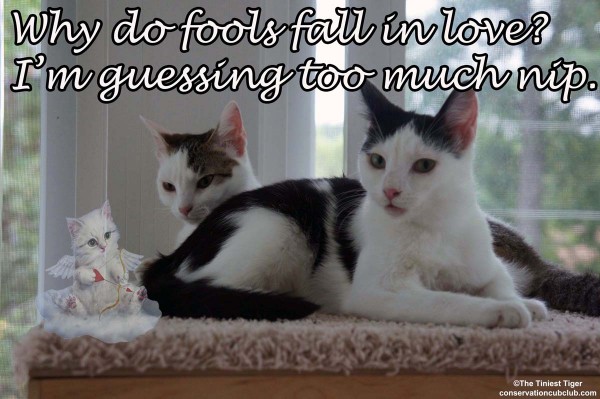 Annie and I took a little break to play with our Tipsy Nip Tickle Gherkins and then we felt sleepy.   Do you see what I see?
We Think You Are The Cat's Meow!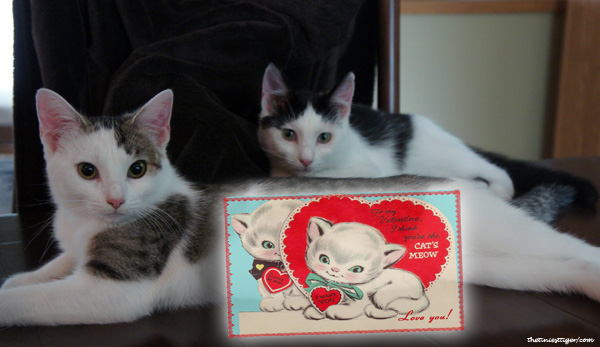 We hope you liked our cat card creations for Valentine's Day.  We truly do think you are the Cat's Meow.  Thank you so much for being a part of The Tiniest Tiger community.  xoxoxo   We have one last Valentine for you.
Love Lives  On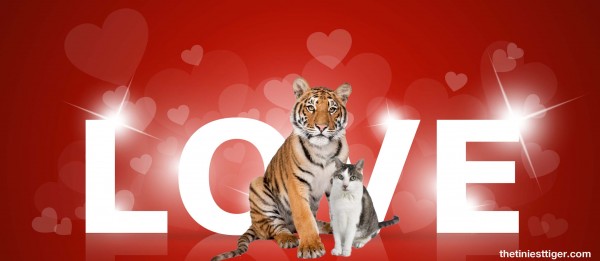 Love lives on in our hearts.   Thank you for being our friend.  Happy Valentine's Day!