Congratulations to Janet Vandenabeele the winner of the Pet CFL
"Change a lightbulb Change a life"
Are  you  or  a member of your family allergic to your cat? Do you have other allergies, asthma, or pet dander issues? Well, Purely Products new Pet CFL Air Purifier in a Lightbulb Controls Pet Dander and Odor!  We were super excited to learn about this new Pet CFL at the Global Pet Expo.  It was one of our favorite products at the show.
Spring is here and after a long and cold winter, we are all super happy to see daffodils popping up through the ground, but for many people along with spring flowers come spring allergies! Some of our friends not only suffer from spring allergies, but have allergies all year long, asthma and are allergic to pet dander. Did you know that about 15% of the population is allergic to dogs or cats? And approximately 1/3 of the people who are allergic to cats live with at least one anyway!
My mom is allergic to cat dander.  When I first came to live with my parents, my mom took allergy medication. She must have gotten used to me now, because she doesn't have to take the medicine, but if she pets me and forgets to wash her hands,  then touches her eyes, they swell up and get super itchy for a little while.  Most of the time, everything is just fine. Our habitat has a strong filter on the furnace and we are a carpet free habitat.  My dad starts sneezing this time of year, but he does not seem to be allergic to me.
So when we saw the Pet CFL from Purely Products we were super excited. The Pet CFL is a compact flourescent lightbulb, an air purifier wrapped in a light bulb, that cleans the air, controlling pet dander and odor. Purely Products is a leader in bringing innovative, eco-friendly, healthy living products to market.
Allergies, asthma and pet dander and odor can be critical issues for pet lovers. Pet CFL, an energy effiicient compact flourescent lightbulb, has a built-in-ionizer that cleans the air, removing pet dander and odor, as well as other airborne allergens.  Watch the Pet CFL ionizer technology remove cigarette smoke in 30 seconds.
[youtube]http://www.youtube.com/watch?v=qlMQAaOnlfo[/youtube]
Super Hurrah!
Here are some benefits of  the Pet CFL:
Built in ionizer emits negative ions that clean the air, removing animal dander, smoke, pollen, odors, fumes, dust mites, mold and other airborne allergens. Effective in a room 12'x12′  Guaranteed for 2 years.
EnergyStar rated-Uses 1/5 the energy of standard incandescnet light bulbs. 10,000 hour life span.
Negative ions have also been shown to increase serotonin levels to boost mood and energy
A great option for your home and office
Save over $44 and reduce CO2 output by over 750 lbs! Over the life of the bulb, based upon 9.8 cents per Kilowatt hour
And as if this isn't great enough, there is even more good news.  A percentage of all sales of Purely Products supports diaperLove, a non-profit organization providing diapers to children in need.  Changing diapers, Changing lives. Every Pet CFL purchase supports Purely's Change a lightbulb Change a life campaign that helps diaperLove.
We changed our light bulbs in our habitat to the Pet CFL, and my dad has not sneezed since we made the switch. This is what happened in our habitat but I can not guarantee what will happen in yours.  I also want to tell you that Purely Products sent me the Pet CFL bulbs to try free of charge.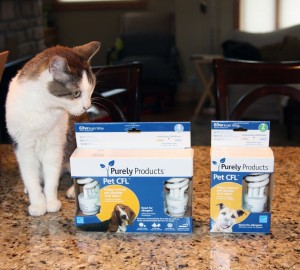 And now I want to send to one of you a pack of the Pet CFL lightbulbs for you to try in your habitat. Post a comment below this post, telling me about  any pet dander or other allergy sufferers in your family. I am asking only those of you that have allergy issues to post. Don't worry there are many other super cool products coming in the near future.
A winner will be chosen to receive the Pet CFL and become a Triple T Reporter.  This means that you will try the Pet CFL and then in 30 days, you will come back and tell us your experience with the Pet CFL!  OK?
If you are super excited and you don't want to wait, here is  the link to the Purely Products website. Tell them Gracey, The Tiniest Tiger sent you!  Thank you.