Annie and Eddie's Adoption Day!
Saturday morning Paul and I loaded up the vehicle with a carrier, water and snacks and headed off to Grayson County Humane Society.  Since June is Adopt a Shelter Cat Month, we decided  we would do just that x 2.  We have a home, and many cats need a home so we thought, we might as well adopt a couple of cuties and bring them into our family.  Annie's photo grabbed our attention one day while Gracey and I were reading through some facebook posts. I told Gracey that Annie looked like she had spunk.  I like to think that Gracey had a paw in choosing these little cats to come and share her habitat with us.
Grayson County Humane Society  in Lietchfield, KY is a wonderful shelter. We were so impressed with Donna and her team at Grayson.  You could tell all the love and care that each and every individual animal was receiving at the shelter.  There are nice big runs for the dogs to get outside and play as well as a big cat room for the felines to enjoy time out of their cages.
Our first look through the door, we could see Annie and Eddie waiting inside for their forever home.  Donna said she thought they knew their new parents were coming because every time the door opened they  lit up with hope.
When we opened the door, both cats looked our way and began to purr and reach out of the cage toward us. When Donna opened the cage, Annie flew out into my arms. She was purring like a cheetah and snuggling up against my neck. I was relieved because I have to confess  I was worried they might not like us. Our friend Paris from dogtipper.com told me that was a silly thing to worry about because why wouldn't they like us? I don't know why I had this fear, but it washed away the moment Annie jumped into my arms.  Then Eddie sprang out of the cage into Paul's arms.  They knew we had come for them.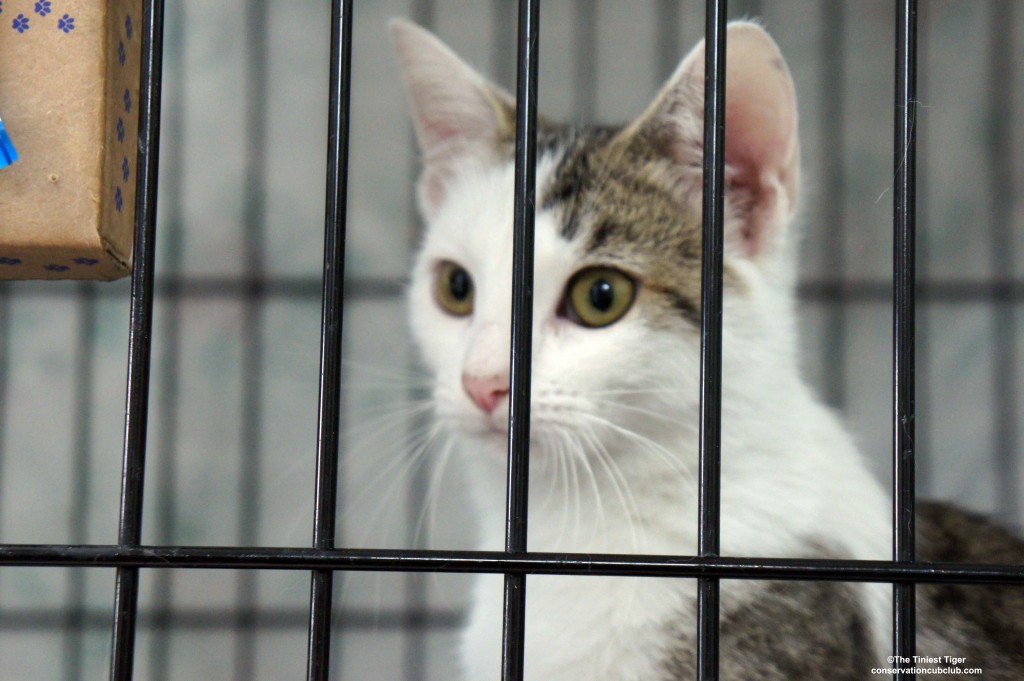 We put the kittens back into their cage while we completed the paperwork and chatted with Donna and her team.
Then it was almost time to get the kittens settled into the carrier for the drive home. Annie was ready to go. When we opened the cage door, she pounced out into my arms. I carefully placed her in our carrier.
Eddie cried out loud. We think he thought he was being left behind. Eddie's sister had been adopted and he was left behind once before. Little Eddie went to the back of the cage, laid down and put his chin on his paws. I think I saw tears forming in his eyes. I said, "Come on Eddie. You too!"
We opened the cage and Eddie flew through the air into Paul's arms. Paul placed Eddie into the carrier with Annie and they laid side by side with big bright eyes looking out at us. We thanked Donna and her team for everything they do and headed out to the vehicle.
Paul carefully placed the kittens into the Jeep and secured the carrier into place.
All settled in and ready to head home. Paul and I took turns driving so one of us could sit in the back seat with Annie and Eddie.
Welcome to our family. We promise to let you live your best life.