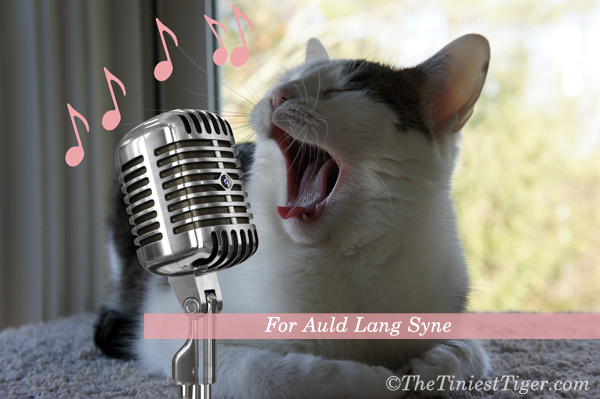 Out With The Old Year
Ready or not, it is New Year's Eve.  In a few short hours 2014 will be behind us.  New Year's Eve has never been a favorite holiday of mine.  It is bittersweet saying good bye to the old year. Even when the year brought difficulties and problems and we might be in the mood to celebrate leaving it behind, the evening brings with it a little heartache.  We remember those we have lost and this night more than any other is a reminder of how quickly time passes.
As we get older, the years go by quicker. We were told this in our youth.  But back then it just seemed like something older people said. Then I read that the reason time seems to go by faster is that a year becomes a smaller percentage of your life lived.  When are are 4, a year is 1/4th of our life, at 10, 1/10th and at 30, 1/30th.  And I think that does make sense.  So now the years seem to roll by and if you are like me, you might sit and reflect for a moment about all the talk and worry about when we said goodbye to 1999. Remember all the talk and fear being spread about that the year 2000 was going to bring all kinds of mayhem.  It didn't.  That was my first New Year's Eve with Gracey.  She had a little white marking on her back that split near her tail so I called her my Y2K Kitty.
Singing In The New Year!
2014 had more than its share of challenges for us, so we are ready to embrace the new year and all the opportunities that lie before us.  To prepare for our New Year's Eve, we are making homemade pizza.  We are truly party animals here.  We will stay home in our pajamas and enjoy some quiet time with Paul's mom,  Annie, Eddie and Mercy.  We might even watch a little of the New Year's programs on television.
While I was writing this post, I saw Annie and Eddie wrestling around a bit,  They were both talking a little and I imagined them singing karaoke.  I don't know why, but that is what they reminded me of with their meowing like singing.  They have brought so much joy back into our lives.  We are grateful to share our home with three perfect little felines.
So Cat Karaoke it is for us tonight.
Happy New Year! We wish you the best of everything!  Thank you for being a member of The Tiniest Tiger Community and as Gracey would say, "Thank you for being our friend."