cats are like little leopards in your house
Cats lived at the edge of human society, cohabitated with people but still retained their independence. The relationship between cats and humans was mutually beneficial. The cats were attracted to the rodents eating stored grain and humans liked that the cats kept the rodent population under control.
Domestic dogs are modified through artificial selection to produce specialized breeds for herding, guarding and hunting. But, the cat required no modification or genetic selection to be of assistance to humans. This behavior was just part of the cat's true nature. Even though cats are living indoors, their relationship with humans as well as their nutritional, physical and emotional needs remain much the same. Domestication has left the cat relatively unchanged with strong ties to their wild ways. One could argue cats are not actually domesticated. Cats are like little leopards living in your house.
cats are better suited to live in urban environments
Today cats have surpassed dogs as pets in American households. One of the reasons for the cat's popularity could be the growing human population living in urban environments. Cats are better suited to live in small spaces and to coexist with humans in a busy society but to keep our little cats happy we must remember they think like a big cat.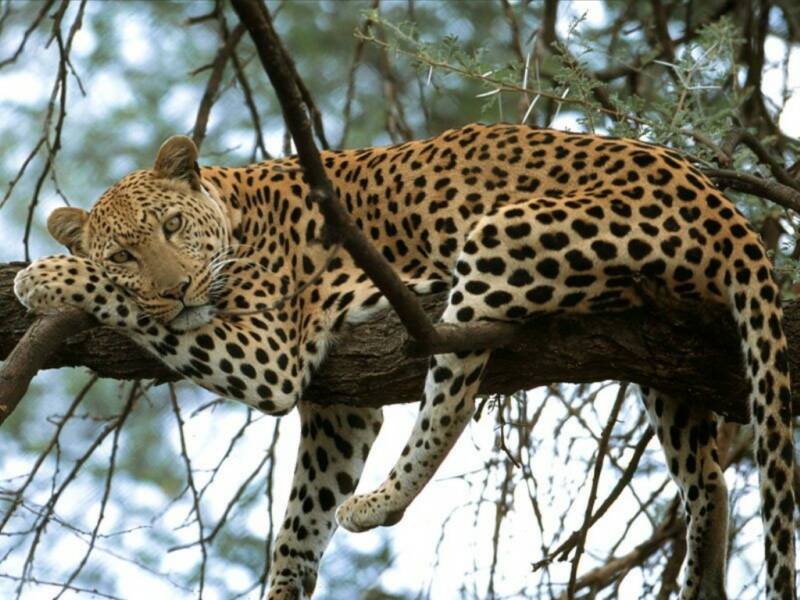 The leopard is also adept at coexisting with humans in a crowded landscape. Tigers and lions desire to avoid human dominated landscapes and the leopards desire to avoid the bigger cats creates a buffer zone closer to humans. To clarify, the leopard is avoiding her cousins not showing a preference to live near humans. As both predator and prey, the leopard must avoid conflict yet seek out a safe place to observe and spot potential prey.
cats and leopards share the same instincts
The leopard uses trees as observation posts, and has been observed dragging prey several times their own weight up into a tree to cache the carcass for later meals. The leopards' scapula is uniquely attached to its muscles and the spotted cat has locking wrists enabling the cat's superior tree climbing ability. This allows the leopard to create a safe haven from predators to watch and rest.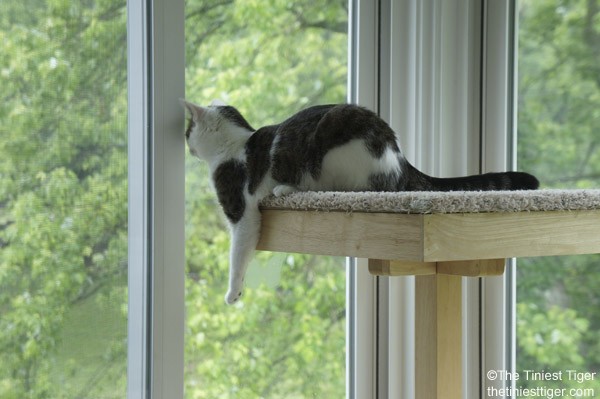 Even though our cat Annie is not as good a climber as her big cat cousin, she uses the cat power tower as an observation post for bird watching from the great indoors. From this vantage point she can survey the entire back yard. There are bird feeders at strategic locations around the sunroom but wild rabbits, chipmunks, squirrels, raccoons and a fox also entertain her.
Annie spends most of her day observing activity and when she grows tired she uses the platform of the cat tower as a safe place for sleeping. Annie knows that Eddie and Mercy, the cats that share her habitat, will not be able to sneak up on her when she is on the top of the tower.
Like the leopard, Annie's behavior is hard-wired. Both house cats and leopards instinct tells them to prevent altercations over food and territory. Cats choose to avoid conflict with others. Seeking refuge in high spaces, like the top of a dresser or cat tower provides much needed security for your cat. Therefore, providing spaces to perch throughout your house is an easy way to satisfy the "little leopard" in your cat.