What About Bob? Wait, Who is Bob?
Bob is a cute outdoor black cat with no tail that decided to adopt us. He began hanging out on the deck having chats with Eddie. Bob and Eddie take naps in the afternoon. Eddie stretches out inside the glass sliding door and Bob stretches out outside the door. We are feeding him, of course.
Earlier this month, I heard Paul say, "Alexa, read notifications." Alexa announces," Your thermal self-heating cat mat will deliver today."
Paul sighs. I look up and he is standing in the office doorway and asks, "A thermal self-heating cat mat?"
I keep typing and say, "Oh, that might be for Bob."

Paul sighs again and says, "ok."
I thought oh just wait a couple days when he asks Alexa to read notifications … she will say, " Your double insulated outdoor cat house will deliver today."
 In full disclosure…Bob might already have a homemade crate with straw but since he has decided to stay arond, he is getting an upgrade. He also went from a paper plate to a more suitable small ceramic dish for his meals.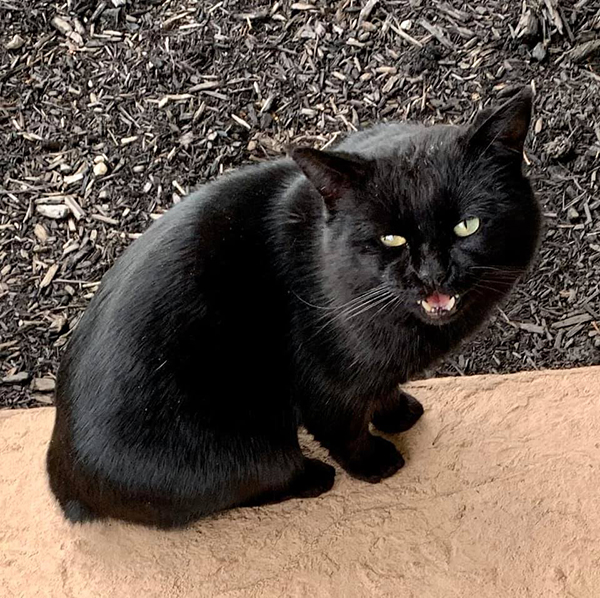 Meet Bob! Our Outdoor Black Cat
We were trying to remember exactly when Bob showed up. One day he was sitting on the front porch when I went to get the mail. I asked him where he came from and if he had a home. Bob, a cat of few meows, was short on answers. He didn't seem afraid of me and I couldn't see a collar.
I asked Paul if he had met Bob, the black cat. He asked," Bob?" And I said, well he doesn't have much of a tail so I was calling him bobcat and so Bob for short. Paul replied he saw the outdoor black cat with no tail a couple of times hanging out on the front porch.
We thought maybe he was just passing through or was a neighbor's cat.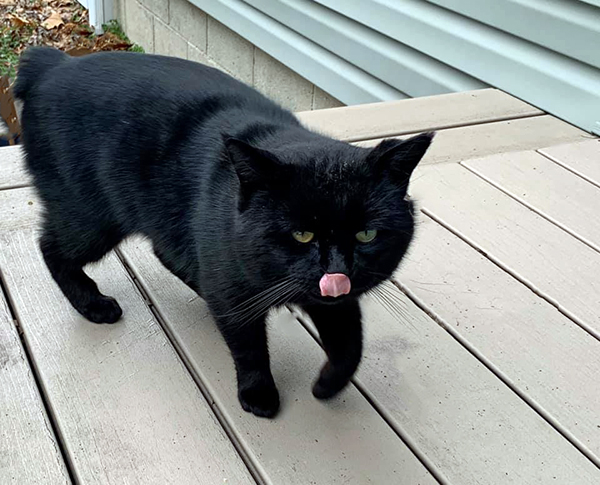 Bob, the Outdoor Cat Visits Eddie on the back Deck
It wasn't too long before Bob found his way to the back deck and introduced himself to our cats. Eddie is far more interested in the outdoor cat than Annie or Mercy. Bob and Eddie began to meet every morning at the sliding glass door. We of course, began to serve Bob breakfast at this time and Eddie is more than happy to keep him company.
Since Bob decided to hang out for a while, we wanted to offer him an upgrade to his crate with straw and I ordered a kitty tube (Affiliate link) from Amazon. The weather can be quite cold even though we had a mild winter, I wanted Bob to have a warm, dry place to curl up and rest.
Bob gets and upgrade A Kitty Tube!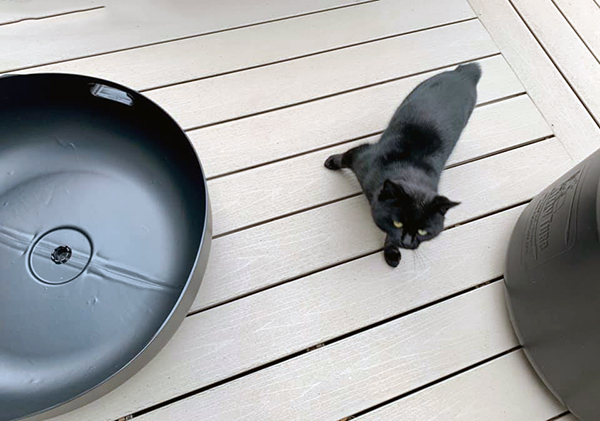 Bob's new condo is a double insulated outdoor cat house called a kitty tube. Because it is cold here in the winter and even into the spring at night, I added the extra layer of insulation. I added the straw option too as it easier for me to handle than going to get an entire bale of straw. The Kitty Tube comes easy to assemble with easy to follow directions. For me the hardest part was getting the lid to snap snugly into place. I needed Paul's help to get it just right.
During the assembly, Bob kept me company and was even a bit chatty. He let me pet him briefly but stopped short of letting me pick him up. He was curious about the new house and we were hopeful he would like it and learn to snuggle up inside.
Bob Moves on Up to a Condo On the Deck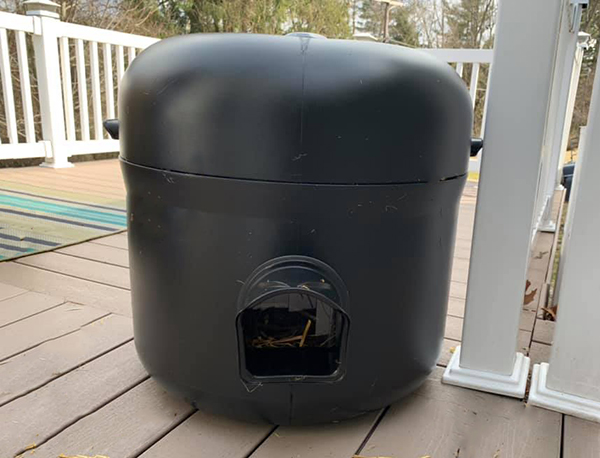 We aren't sure if Bob is sleeping in the kitty tube at night, but he continues to show up for breakfast and sometimes for dinner. A couple times he had small pieces of straw on his back and sides. This made us happy thinking he had taken up residence.
One day soon, I am going to try to convince Bob it is time to go and get a checkup.