November is Adopt a Senior Pet Month. While kittens and puppies dominate when it comes time for adoption,   shelters and rescues are full of older pets in need of a forever home. They wait and wait, often getting passed over simply because they are older.  There are many reasons why you might want to consider adopting an older cat. We wanted to share an update on Maggie to tell the story of why an older cat might be the perfect cat for you.
Maggie came to live with us after our neighbor Marie passed away. Maggie was loved and you might say a bit spoiled byMarie, as all cats should be.  But Maggie was used to being an only cat.  We had just adopted Annie and Eddie and they were about four months old so they were a bit too rambunctious for Maggie and especially when she was already broken-hearted and trying to adjust to a new home.
Vicki and Kenny were wanting to adopt a cat, but were a bit reluctant because they weren't sure what to expect not having shared their home with a cat before.  Vicki knew and loved Marie too, so she felt a natural attachment to Maggie.
We tried everything we could to acclimate Maggie into our home with the kittens but she was just miserable. When I asked Vicki if she had thought anymore about adopting Maggie, she said that they had decided they would like to bring Maggie into their family.
Maggie was the ideal cat for Vicki and Kenny.  Because she was well past her kitten shenanigan stage, it was an easier transition into living with first-time cat parents.  We, of course, love Annie and Eddie, but there were times when Paul would ask "How long are they going to be this wild?" and I would say, "Oh about two or three more years."  We had both forgotten how much energy two kittens have from living all those years with Gracey.
Maggie had been spayed was up-to-date on all of her vaccines, so by adopting an older cat, first-time cat parents didn't have the stress of worrying about her recovering from surgery or the expense of  immunizations.  They were able to focus on creating their bond with their new family member and bond they did.
Maggie loved being outdoors a little bit each day when she lived with Marie.  That was something that we were not able to provide for her. But Maggie hit the jackpot with her new parents and she even became a guard-cat for the chickens.
As hard as it was to say goodbye to Maggie, we knew it was best for her and that she would be in a loving home. And perhaps back to being spoiled a bit.  Here is an updated photo of Maggie on her own personal blanket embroidered with her name.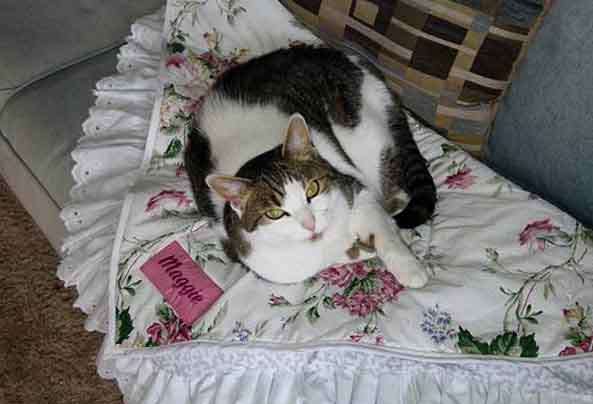 Yes, I think Maggie is back to living her preferred lifestyle as the only cat in loving home.  It warms our hearts knowing she is happy and loved.
Nutrish Gives Back To Cats In Need
All three of our cats are rescue kitties so we love that Rachael Ray's personal proceeds from sales of Nutrish have gone to Rachael's Rescue to purchase not only food but medical supplies and treatment as well for animals in need. Rachael's Rescue was created for all of the forgotten pets — the ones that might not have someone who loves them as much as you love your pet.
You can learn more by following Nutrish on Twitter, Facebook and Instagram, too!