This is a sponsored post; we have been compensated by Hill's Pet Nutrition. Hill's Pet Nutrition is not responsible for the content of this article.
Cat Food with Complementary Nutrition
Many of you know that Gracey had food allergies.  She was on a limited diet and at times it broke our hearts when she would look so sad especially when we were having tuna for dinner.  Once when Paul was refilling her chow jar, he walked away to answer the telephone and found Gracey helping herself to her low allergen snack food.  He couldn't help but laugh because she was behaving as though she were starving.
I am sure you understand because when you share your home with a feline family member, you are accustomed to being awaken to the cat's breakfast demands.   Now that we are adjusting to our new family members, Annie, Eddie and Maggie, we are still not quite into a routine.  But one things is for sure, when dinner time comes, all tails are up and curled, ready and waiting for their meal.
Ideal Balance Menu Suggestion from Hill's Pet Nutrition
Offering your cat complete and nutritious meals every day eases your mind and satisfies your cat.  Our friends at Hill's had you and your cat in mind when they created their line of foods for cats. In Hill's tradition, making food that is nutritious is at the core of their philosophy; quality and safety first is above all else.
What's more, feeding Ideal Balance brands of wet, dry and treats assures that your cat is getting complementary natural nutrition. Often times when pet food brands are mixed, it can throw off the perfect balance of natural nutrition that Ideal Balance so carefully provides. Plus, all Ideal Balance wet, dry and treats are made with NO corn, wheat or soy and NO artificial colors, flavors or preservatives.
Here's a sample meal line up for your cat from our friends at Hill's Pet Nutrition or choose which Ideal Balance food you think your cat will love most.
Breakfast:
Hill's® Ideal Balance™ Roasted Turkey Recipe – Gourmet taste of turkey in a soft, smooth texture is a great way to start the day.
Roasted Turkey
Daytime Nibbles:
Hill's® Ideal Balance™ Grain-Free Natural Chicken and Potato Recipe dry food- Delicious ingredients like chicken (the first ingredient), green peas, apples, cranberries, carrots & broccoli will make your cat happy while providing the nutrition that she needs.
Grain-Free Natural Chicken and Potato Recipe
Treats:
Hill's® Ideal Balance™ Crunchy Naturals with Real Tuna – yummy, natural treats that are healthy too! Go ahead, give your cat these treats – we all love to be treated special!
Crunchy Naturals with Real Tuna
Supper:
Hill's® Ideal Balance™ Slow-Cooked Chicken Recipe – Food made with natural ingredients like real chicken and brown rice, carrots and greens in a delicious sauce says "comfort food" and "love".
Evening Nibbles:
Set out more of her Hill's® Ideal Balance™ Grain-Free Natural Chicken and Potato Recipe dry food to keep kitty satisfied until the morning light.
Would You Like to Try Ideal Balance?
If you would like to try Ideal Balance for your cat, make sure you enter our giveaway for your chance to win one of 20 Ideal Balance food baskets.
Pounce here to enter:  CLICK HERE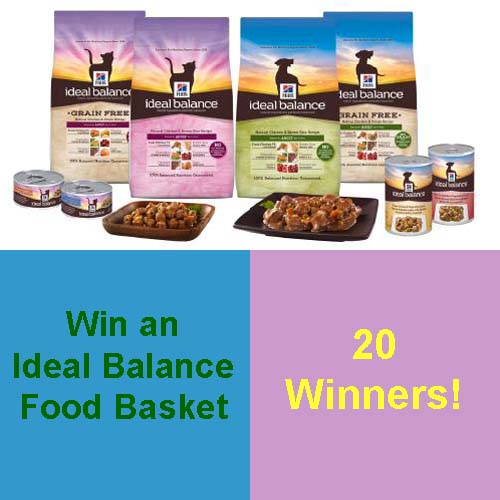 Posts you might like: