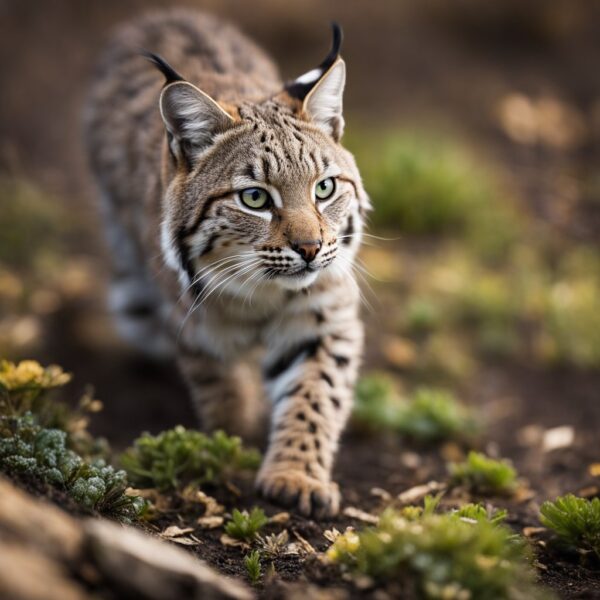 Domestic Dogs Impact on Bobcats and Puma
Domestic dogs impact on bobcats and other wildlife. You might wonder why we are writing about dogs when our focus is on all cats big and small. You may be aware of the non-stop criticism against domestic cats and their impact on birds and wildlife but you see much outrage about domestic dogs.
Biologists are studying and documenting the negative effects of dogs on wildlife. Quantifying the potentially negative impacts of dogs on pumas and their prey is a focus of current research by the Felidae team. Research also shows the negative effects of domestic dogs on bobcats.
Exploring the Impact of Dogs on Bobcats
Dogs' presence in natural habitats can have various negative effects on wildlife. One such impact is the displacement of wild animals, as they may feel alarmed by dogs and move away from certain areas, either temporarily or permanently. This displacement contributes to habitat loss, a significant threat to biodiversity. For instance, some animals, like bobcats, may adjust their activity patterns to avoid contact with domestic dogs.
Additionally, the presence of dogs can induce stress in wildlife. Prolonged stress may cause suppressed immune systems, making animals more susceptible to illness and disease. This vulnerability further affects an organism's ability to survive and reproduce, ultimately threatening the persistence of their populations.
One of the most concerning aspects of dogs interacting with wildlife is the potential transmission of diseases. Unvaccinated dogs may spread diseases such as rabies, distemper, and parvovirus to wild animals. They may also spread giardia and toxoplasmosis, for which no vaccines currently exist, through their feces.
It's important to vaccinate dogs and maintain herd immunity to reduce the risk of transmission to wild animals. Monitoring pets and properly disposing of their feces can also help limit the spread of disease. vaccine hesitancy (CVH) can be thought about as dog owners' skepticism about the safety and efficacy of administering routine vaccinations to their dogs. CVH is problematic not only because it may inspire vaccine refusal – which may in turn facilitate infectious disease spread in both canine and human populations – but because it may contribute to veterinary care provider mental/physical health risks. In a nationally representative survey of US adults (N = 2200), we introduce a novel survey-based instrument for measuring CVH. We document pervasive CVH in dog owner subpopulations. Troublingly, we find that CVH is associated with rabies non-vaccination, as well as opposition to evidence-based vaccine policies.
Recognizing and adhering to park rules regarding dogs is essential for protecting wildlife. By ensuring that dog owners and their pets stay on designated trails, the likelihood of unwanted interactions between humans, dogs, and wildlife decreases. It is crucial to leash dogs when required and keep them vaccinated to promote human-wildlife coexistence and safeguard all species involved.
Frequently Asked Questions
What effects do domestic dogs have on local ecosystems?
Domestic dogs can influence local ecosystems in several ways, such as by predation, competition, and disease transmission. They may prey on native wildlife, including small mammals, birds, and reptiles, which can lead to declines in population numbers. Additionally, dogs can compete with native species for resources like food and shelter.
How do feral dogs impact wildlife?
Feral dogs can also have significant impacts on wildlife. Like domestic dogs, they can prey on native species and compete for resources. Furthermore, feral dogs may form packs that can disrupt the natural behaviors and social structures of native wildlife, such as wolves and other carnivores.
Can domestic dogs spread diseases to wild animals?
Yes, domestic dogs can transmit diseases to wild animals, such as canine distemper, rabies, and parvovirus. These diseases can lead to illness and death in affected wildlife populations, potentially causing declines or even local extinctions.
How do dogs influence the behaviors of native species?
Dogs can impact the behaviors of native species in various ways, such as by altering their habitat use, foraging patterns, and reproductive behaviors. The presence of dogs may cause some species to avoid certain areas, leading to changes in their home ranges and increasing pressure on remaining habitats.
What are the ecological consequences of stray dog overpopulation?
Stray dog overpopulation can lead to several ecological consequences, including increased competition with native species, predation on wildlife, disease transmission, and disruption of ecosystem processes. Stray dogs can also contribute to human-wildlife conflicts, as they may attack livestock and pets or spread diseases to humans.
How can responsible pet ownership help reduce impacts on wildlife?
Responsible pet ownership can help reduce the impacts of domestic dogs on wildlife by:
Spaying and neutering pets to control population growth
Keeping dogs on a leash and preventing them from roaming unsupervised
Vaccinating pets against diseases that can be transmitted to wildlife
Educating dog owners about the potential impacts of their pets on native species and the importance of responsible behavior
References:
Matt Motta, Gabriella Motta, Dominik Stecula, Sick as a dog? The prevalence, politicization, and health policy consequences of canine vaccine hesitancy (CVH), Vaccine, Volume 41, Issue 41, 2023,
Pages 5946-5950, ISSN 0264-410X, https://doi.org/10.1016/j.vaccine.2023.08.059.
(https://www.sciencedirect.com/science/article/pii/S0264410X23010150)
Kristine Piedad, Domestic Dogs and Unintended Impacts on Wildlife, Felidae Conservation Fund, November 01,2023.