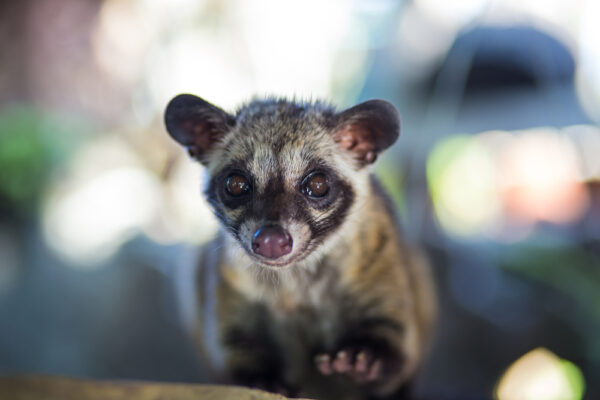 What is Kopi Luwak? Cat Poop Coffee
Kopi luwak is the world's most expensive coffee. This cat poop coffee has captivated the attention of many due to the nature of its production process. Civet poop coffee is a popular trend garnering interest from connoisseurs and casual coffee enthusiasts alike. But it's important to consider the inhumane way the coffee is produced from the excrement of the Asian Palm Civet. To clarify the Palm Civet is not a cat!
Originating from Southeast Asia, civet poop coffee, is known for its distinctive production process involving the Asian palm civet. Learn more about kopi luwak coffee by examining its characteristics, the reasons behind its high price, and the ethical considerations of its production.
Key Takeaways
Kopi luwak is an exotic coffee type with a unique production process involving the Asian palm civet.
The rarity and unconventional production contribute to the high price of kopi luwak coffee.
Production ethics surrounding civet poop coffee raises concerns in the coffee industry and among consumers.
What Is Kopi Luwak?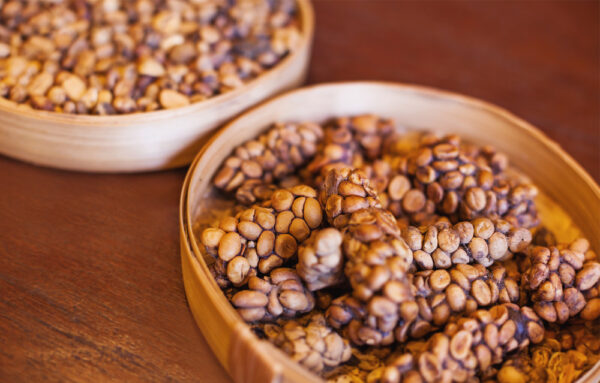 The Uniqueness of Civet Poop Coffee
Kopi Luwak, also called civet poop coffee, is a distinct variety of coffee originating from Indonesia and other Southeast Asian countries with similar ecosystems. The primary factor that sets it apart from other coffees is its unconventional production method. Civet cats consume the ripest coffee cherries, resulting in a unique fermentation process within their digestive system. The coffee beans are then excreted whole and eventually collected for further processing.
The Flavor Profile of Kopi Luwak
Kopi Luwak is valued for its unique taste and consistency, which sets it apart from typical coffee. It is known for its smoother and less acidic flavor, giving coffee drinkers a more enjoyable experience. The specific flavor of a cup of civet coffee largely depends on the diet of the civet cat and the type of coffee bean consumed. Some common flavors associated with civet poop coffee include rich earthy notes, citrus, chocolate, floral, syrupy, and jungle undertones.
The Production Process of Civet Poop Coffee
The traditional production process of Kopi Luwak involves the following steps:
Coffee plants are grown by native farmers.
Ripe coffee cherries are fed to civet cats.
The civet's digestive system alters the coffee beans' taste and chemical composition within 24 to 36 hours.
The civet excretes the partially-digested coffee beans.
The coffee beans are handpicked from the excrement.
The beans undergo processing – washing, drying, and roasting.
The processed Kopi Luwak beans are packaged and sold.
The demand for Kopi Luwak has led to civet cats being explicitly raised in cages, local forests, or plantations.
The Origin of Cat Poop Coffee Consumption
The history of Kopi Luwak dates back to the early 1600s when the Dutch colonized Indonesia and were introduced to coffee. The high demand for coffee in the West led to struggles in production, and the Dutch imposed the Cultuurstelsel, a cultivation system dictating the production and distribution of coffee in Indonesia. Locals were forbidden from keeping coffee for themselves, leading to the discovery of usable coffee beans in civet droppings. The unique quality and flavor of these beans eventually gained popularity, spreading from local communities to international markets by the 1990s.
This unique coffee, with its intriguing production process and distinct flavor profile, continues to capture coffee enthusiasts' interest worldwide.
Why Is Kopi Luwak Coffee So Expensive?
Limited Availability
Kopi Luwak coffee has a production of about 50 tons per year, which is significantly small when compared to the nine and a half million tons of coffee produced globally each year. With a high demand for this unique coffee, the market size was valued at $6.5 billion in 2021 and is expected to reach $10 billion by 2030.
Production Process
The production of Kopi Luwak involves considerable time and effort. Civet cats are selective when it comes to the coffee cherries they consume, only opting for the ripest ones. Additionally, the process of the civet cats excreting the beans takes a minimum of one day. Afterwards, collecting the feces and extracting the coffee beans is labor-intensive and unappealing.
Cost of a Cup of Kopi Luwak
As one of the most expensive coffee varieties available, a single cup of Kopi Luwak can range between $35 to $80. Purchasing this gourmet coffee by the pound equates to a price tag of $100 to $500. Kopi Luwak beans that come from wild civets are typically more expensive because locating and collecting their droppings is more time-consuming and laborious compared to obtaining beans from caged civets.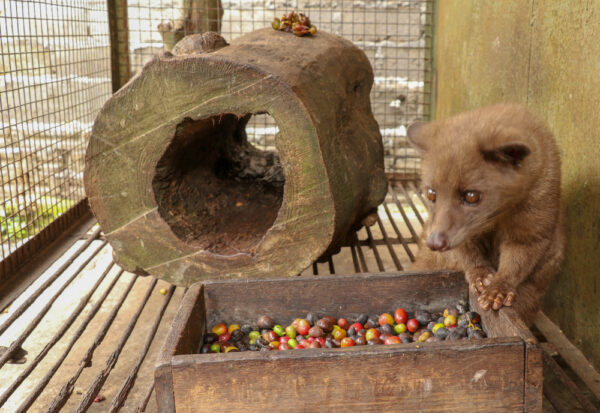 The Controversial Production of The Coffee Beans
Kopi Luwak coffee beans are known for their unique production process, which involves the Asian palm civet. However, this process not only raises ethical concerns but also poses potential risks to the civet population and coffee quality.
Civets are often captured from the wild, disrupting their natural habitat. These solitary animals are then placed in cramped spaces, leading to fights and the spread of illnesses. Furthermore, metal cages may be used to house these civets, causing wounds and sores on their bodies.
As shy and nocturnal creatures, civets require privacy and appropriate resting times. However, some coffee plantations expose them to tourists during the day, ignoring their natural behavioral patterns.
In the wild, civets have a diverse diet, consuming fruits, seeds, berries, and insects. However, in captivity, they are often force-fed only coffee cherries, leading to malnutrition and health issues. This restrictive diet also impacts the quality of the coffee beans, as captive civets cannot choose the best cherries themselves.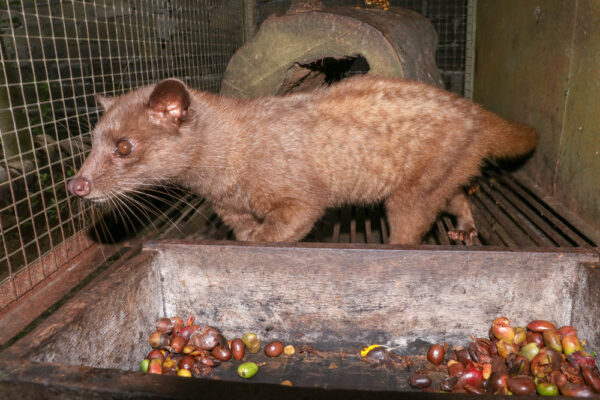 Moreover, the excessive hunting of civets for coffee production may contribute to a decline in the wild civet population. This puts their species at risk and raises serious concerns about animal welfare.
Identifying authentic Kopi Luwak coffee beans is another challenge, as it is difficult to discern civet feces from other wild animal droppings. This uncertainty leads to the possibility of counterfeit beans entering the market. Unscrupulous sellers may resort to mimicking gastric processes through adding chemicals or simply mislabeling traditionally fermented beans as Kopi Luwak.
In summary, the production of Kopi Luwak coffee beans raises concerns related to:
Captive civets and their living conditions
Poor animal welfare standards
Malnutrition and health problems in civets
Risks to the wild civet population
Authenticity and quality of the coffee beans
The controversial nature of Kopi Luwak coffee production necessitates increased awareness and efforts towards more ethical processes. This could potentially help protect the well-being of the Indonesian palm civet and uphold the integrity of this unique coffee variant.
Frequently Asked Questions
Is Kopi Luwak Clean?
Absolutely, Kopi Luwak undergoes an extensive cleaning process. The beans obtained from civet excrement are initially washed, then the outer shell is removed, and the beans are sun-dried. This process is repeated to ensure no shells remain, and finally, the beans are roasted at 220° Celsius, ensuring cleanliness.
Is Kopi Luwak Coffee Safe to Drink?
Kopi Luwak coffee is safe to drink. The thorough washing and roasting process eliminates any germs or bacteria. However, wild-collected civet droppings may develop fungus if left for more than 24 hours, so it is essential to gather them promptly.
How Can I Prepare Kopi Luwak Coffee?
A widely used method for serving Kopi Luwak coffee is brewing. If you have a coffee machine and grinder, the process is easy. To make a good coffee:
Preheat the coffee pot by pouring hot water and then empty it.
Grind the coffee and place it in the coffee pot. (Tip: use two tablespoons per cup of coffee)
Proceed with your coffee machine's brewing process.
Enjoy your specialty coffee!
Are There Other Types of "Animal Poop Coffee"?
There are several other varieties of animal-related coffee:
Bat Coffee
Originating in Costa Rica, this coffee is derived from coffee cherries consumed by the Artibeus jamaicensis. Despite the name, the beans are not from bat droppings but from cherries bitten by bats, which leads to a natural coffee processing method. Bat coffee is rare and predominantly found in Costa Rica.
Bird Poop Coffee
Introduced in 2009, this coffee comes from Jacu bird droppings on a Brazilian farm. The birds consume only ripe coffee cherries, resulting in a nutty and honey-flavored coffee. The herbivorous nature of Jacu birds enhances the beans' natural qualities.
Elephant Poop Coffee
Produced exclusively by Thai elephants, Black Ivory Coffee is made from elephant excrement. The cherries are mixed with their regular diet, and the beans are then harvested and cleaned. This coffee possesses malt, chocolate, floral, and cherry flavors, with hints of grass, tobacco, and leather.
Monkey Coffee
This type of coffee is derived from coffee berries chewed and spat out by Rhesus monkeys, primarily found in Taiwan and Chikmagalur, India. The saliva breaks down enzymes in the beans, resulting in a sugary sweet, caramelized flavor with notes of chocolate, citrus, nutty, and vanilla.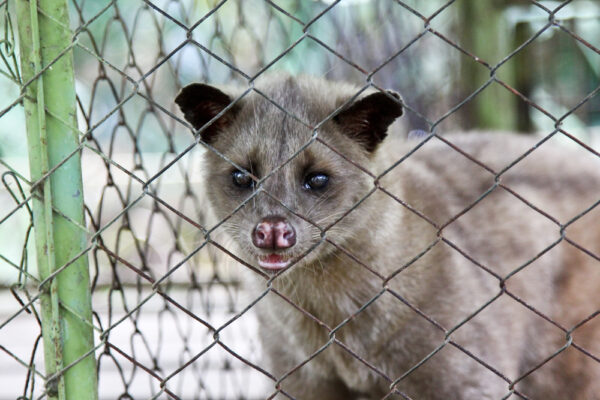 The Bottom Line: Assessing the Value of Asian Palm Civet Coffee
Is Asian palm civet coffee worth experiencing? It might pique your curiosity, given its status as the world's priciest coffee, stemming from its unconventional production process. However, consider the ethical implications of civet treatment on plantations.
Civets, as naturally wild animals, ought to have the liberty to roam and select the finest cherries. When contemplating trying civet coffee, it's crucial to scrutinize a company's ethical practices and authentication certificates beforehand. This helps ensure both a unique experience and peace of mind regarding animal welfare.
Do we really need this coffee? There are plenty of alternatives without contributing to the abuse of the Asian Palm Civet.
Frequently Asked Questions
How is Cat Poop coffee produced?
Kopi Luwak coffee is created through a unique process involving the Asian palm civet, a small mammal native to Southeast Asia. The civet consumes ripe coffee cherries for their fruit pulp, while the beans inside pass through its digestive tract with little damage. After excretion, the beans are collected, cleaned, and roasted to produce the distinctive Kopi Luwak coffee.
What factors contribute to the high cost of Kopi Luwak?
Several factors contribute to the high price of Kopi Luwak coffee:
Rarity: The production of Kopi Luwak is limited due to the relatively small amount of coffee beans consumed and excreted by the civet.
Production: The coffee beans must be hand-collected from civet feces, cleaned, and processed, which is labor-intensive.
Taste: The coffee's unique flavor and smoothness, which result from passaging through the civet's digestion, are highly sought after.
From which region does Kopi Luwak coffee originate?
Kopi Luwak coffee originates from the Indonesian archipelago, particularly the islands of Java, Sumatra, and Sulawesi. However, it can now be found in various coffee-producing countries throughout Southeast Asia.
What is the taste profile of Kopi Luwak coffee?
Kopi Luwak coffee is known for its distinctive taste, which is often described as smooth, rich, and less bitter than other varieties of coffee. This unique taste profile can be attributed to the fermentation process that occurs within the civet's digestion process, as well as the specific enzymes and microbes found in the animal's gut.
How do you properly pronounce 'Kopi Luwak'?
"Kopi Luwak" is pronounced as "KOH-pee LOO-wack."
Why might some people choose not to drink Kopi Luwak?
There are a few reasons why some individuals may opt not to consume Kopi Luwak coffee:
Cost: The rarity and labor-intensive production process result in a high price that may deter potential buyers.
Ethical concerns: Some civets are kept in captivity and force-fed coffee cherries under suboptimal conditions, raising animal welfare concerns.
Authenticity: There have been reports of counterfeit or adulterated Kopi Luwak coffee products sold in the market, making it difficult to ensure the genuineness of a purchase.