Welcome to The Tiniest Tiger's Egg Hunt 2011!
An egg hunt is a fun game that we play where decorated eggs are hidden for you to find.
In habitats around the world, the decorated eggs can be real hard-boiled eggs or artificial eggs filled with candies and then hidden for children and adults too to find both indoors and outdoors. When the hunt is over, prizes might be given for the largest number of eggs found, or for finding an egg with a special decoration.
For The Tiniest Tiger's Egg Hunt  I will be partnering with Raphael Rabbit. Raphael is quite the artist. He has been busy painting eggs for us.  When the eggs are decorated to his liking, Raphael will hide them.  Then a photo of Raphael will appear and you will begin to hunt the eggs by counting how many are in the photo.  When you think you have counted all the decorated eggs in the photo, leave a comment like this:
Egg Hunt #   I have counted #  eggs.
And Now, our first The Tiniest Tiger Egg Hunt begins!  Good Luck!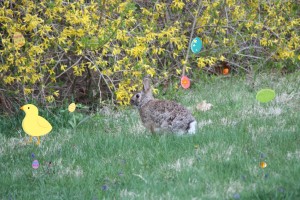 Egg Hunt #1
Congratulations to Laura Davis! The Winner of  Egg Hunt #1
Congratulations Tracy Diane Arledge! The Winner of Egg Hunt #2
Raphael  Rabbit has been hard at work painting special eggs for our
The Tiniest Tiger's Egg Hunt 2011!
You can take your time and try to count how many eggs has Raphael painted so far?