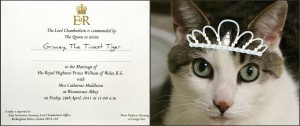 Friends, I have been super busy on my whirlwind tour of London.  The whole country is buzzing with excitement over the wedding of Prince William to Miss Catherine Middleton.  I wanted to share a few snapshots with you from my visit.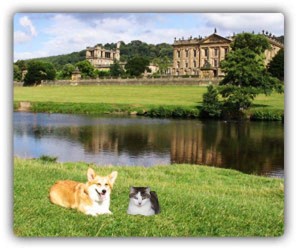 I had a wonderful chat with Willow, a beautiful Corgi living in the same habitat with Her Majesty.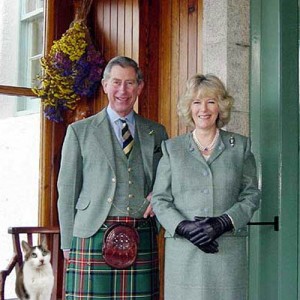 I had tea and biscuits with Prince Charles and Camilla.  My eyes match the color in their jackets, don't they?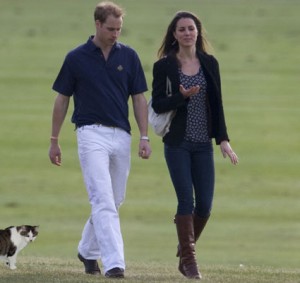 I had a visit with Prince William and Miss Catherine  while they were taking a stroll.  They have a lot on their minds.  Kate was getting ready to go  out to do a bit of shopping.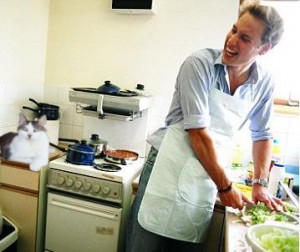 Prince William was kind enough to fix us a bite to eat.  Prince Harry told us a really funny story too.  I was hoping there was some duck and pea for me.  That is a lot of lettuce.
After lunch I set out to do a bit of shopping myself.  I was lucky to catch the Royal Guard in action.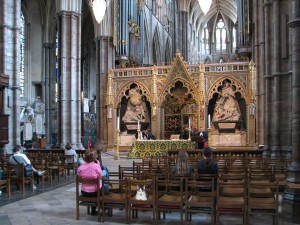 Then I stopped by Westminster Abbey, where everyone is busy with the Royal Wedding details.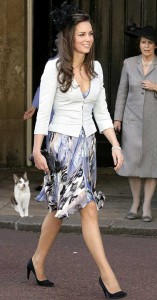 I ran into Kate, I mean Miss Catherine, while she was out shopping.  She is quite lovely, isn't she?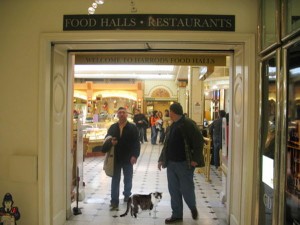 Then I had to get serious about a wedding gift for the Royal Couple.  So I headed to the Harrod's Food Hall. I was sure they would have something wonderful to give to as a gift.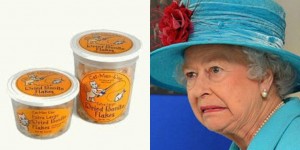 My first choice for a wedding gift was some delicious dried tuna flakes.  The Queen was super polite, but she thought perhaps I should think of something else for the couple. So I had to head to my thinking circle.  When I woke up from my nap, I mean when I finished thinking in my circle, I came up with a bloody brilliant idea for a wedding gift.

I will make a donation to The Prince William & Miss Catherine Middleton Charitable Gift Fund! The couple have chosen the Zoological Society of London's Tiger Conservation as one of the charities in their gift fund.  Super Hurrah!!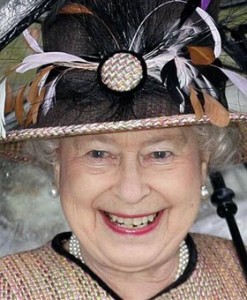 The Queen was much happier with this gift selection.  In fact, she  was super happy !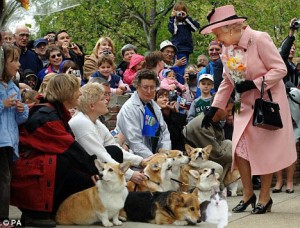 Her Majesty was so happy she let me spend the rest of the day with her.  I had a hard time keeping up with her schedule.  I am ready for a nap and a snack.
I hope you enjoyed my snapshots of my visit!  The Royal Wedding will be starting in just a few hours now.
I hope you have tea and biscuits in your habitat.  We do.  Meow for Now!
UPDATE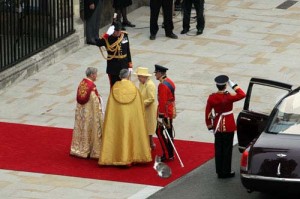 The Queen arrives at the Abbey for the wedding. I think this might take a while.  The Queen is a super busy lady.  I have to take a rest when I can get one.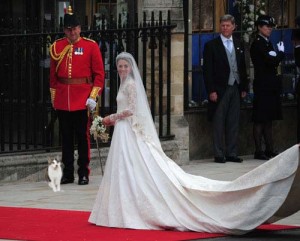 The beautiful bride arrives.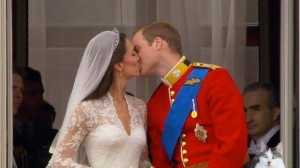 I hope Prince William and Princess Catherine will live a long and happy life together.
I wonder where the Queen put my thinking circle.  I could use a nap.
I just received a photograph that was taken in the Buckingham Palace throne room.  I will miss spending time with the Queen but there really is no place like home.
Thank you for visiting my photo album.