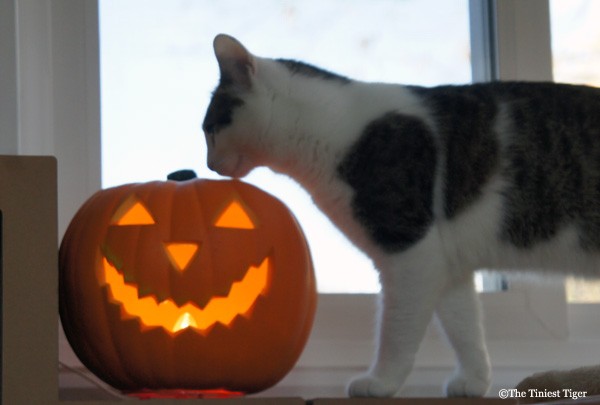 Lion Cubs Pumpkin Play Date
When we saw this adorable video of the lion cubs at the Columbus Zoo and Aquarium playing with their pumpkins, we wondered if Annie, Eddie and Mercy might like a play date with a few little pumpkins too.
Cats and Little Pumpkins
We placed little pumpkins in the sunroom and then opened the door. All three cats ran into the room with tails up and curled, curious to see what those little orange things were on their bear rug.
We placed a few pumpkins on the Katris. Eddie was the first to check them out.
Mercy quickly chose his little pumpkin and moved it closer to protect it from Annie and Eddie.
Annie sniffs around a bit.  She seems curious but not over enthusiastic with the little orange pumpkins.
Eddie shoves a little pumpkin around with his nose.
After shoving the pumpkin around, Eddie pauses to decide whether the little pumpkins are treats or toys.
Eddie asks Annie and Mercy if this is the trick in Trick or Treat?
Annie decides to check out the Jack O Lantern.  When we saw Annie looking at the Jack O Lantern, we remembered one of our favorite photos of Gracey on Halloween night.
Wishing you a safe and Happy Halloween!