We received another heart-warming  handwritten letter from Lipap Sayioki in Kenya, the Lion Guardian  The Tiniest Tiger community is able to sponsor  due to your support of Triple T Studios.  This is the second year we have been able to provide ongoing support to Lipap to care for his family and to help protect lions and other wildlife.  This letter came at a time when we all might need some positive news and a little hope that we can and do make a difference.
This sponsorship means so much to me after spending time in Kenya with the Maasaii and understanding that in order to save African Lions, we need to help the people that live among the lions.  Mitigating human wildlife conflict is  a priority to save African lions from persecution. Our goal is to increase our support to The Lion Guardian Project  and we couldn't do it without you.
A Letter from Your Lion Guardian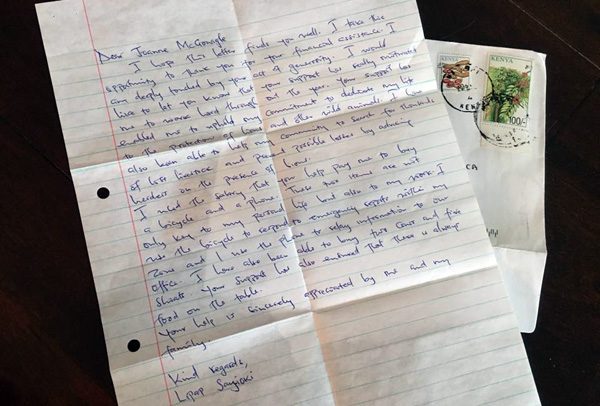 I hope this letter finds you well. I take this opportunity to thank you for your financial assistance. I am deeply touched by your act of generosity. I would like to let you know that your support has really motivated me to work hard through out the year. Your support has enabled me to uphold my commitment to dedicate my life to the protection of lions and other wild animals. I have also been able to help my community to search for thousands of lost livestock and prevent possible losses by advising herders on the presence of lions.
I used the salary that you help pay me to buy a bicycle and a phone. These two items are not only key to my personal life but also to my work. I use the bicycle to respond to emergency reports within my zone and I use the phone to relay information to our office.
I have also been able to buy two cows and five shoats*. Your support has also ensured that there is always food on the table.
Your help is sincerely appreciated by me and my family.
Kind regards,
Lipap Sayioki
*sheep and goats
Thank You For Your Support
Thank you for your support of Triple T Studios.  Without your support our community would not be able to support global conservation projects  caring for all cats big and small.
The Lion Guardians Project
Lion Guardians conservation model is adaptable to various cultures and wildlife species. Founded on local value systems, community participation and science, it is based on a decade of research and rigorous measures of success. The Lion Guardian method includes recruiting young, non-literate Maasai and other pastoralist warriors to learn the skills needed to effectively mitigate conflicts between people and wildlife, monitor lion populations, and help their own communities live with lions.  Lion Guardians transforms people who were once lion killers into lion protectors.