My dad and I have a morning ritual.  We both get up super early, way before the sun.  Then we sit at the counter in the kitchen and Dad reads the news and makes a cup of tea.
Early this morning, I got overly eager about our morning ritual so I woke my dad up at 1:30 a.m.  He said, "Gracey, it is not time yet.  Please go back to sleep for a little while."  So, I tried my best, and I really did try.  But at 2:15 a.m. I went back in to get my dad up for tea and tiger time.
He said, and I got a little worried because his voice sounded a bit weak, "Sugar Bear, pleeaaassseee!  Let me sleep a little longer."
One of my many nicknames is Sugar Bear.  I don't have any idea why other than my parents sometimes tell me that I am super sweet.  I know that sugar is also sweet.  Sometimes I hear the word honey associated with my name, and that is also sweet, so I can only deduct that I am sweet as sugar.  Would you agree?
Well, because my dad's voice sounded a little weak at 2:30 a.m., I couldn't take the stress of worrying if he was ok any longer so I went back to get him up at 3:00 a.m.  This time he let out a big sigh and said. "OK, sweet heart, I am up!"  Then he followed me to the kitchen where I crunched some chow and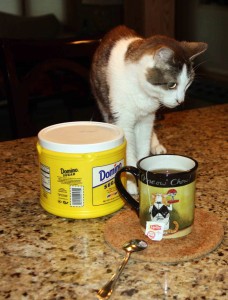 he made himself a cup of tea.
Every morning my dad puts a little bit of sugar in his tea.  He says just enough to get the bitterness out.  He carefully measures the grains of sugar on a teaspoon and like a chemist, he stirs the sugar into the tea until it disappears.  Then he lets the tea cool down a little.  During this cooling process, I started thinking.  If I am sweet as sugar, maybe I could help my dad out.  I could sweeten his tea by adding a couple of cat hairs to his cup.
This morning, I had the perfect opportunity to try my experiment. My dad still seemed a little sleepy, so when he put his tea cup on the cork coaster to cool, he forgot to stir the sugar into the mug.  This is when I made my move.  I carefully shook over his tea cup. Upon close inspection, I could see that two of my cat hairs  landed strategically into the tea.  Now, I was not able to stir so I  just observed to see if the hairs dissolved like the sugar.  No, they didn't in case you are wondering, they were floating on top of the tea.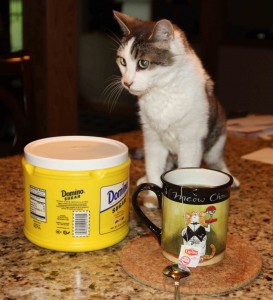 Now, here is where it got super interesting.  When my dad took a sip of his tea, he looked in the cup, made a funny face and then set the cup down.  He carefully fished out the two cat hairs and placed them on his napkin.  He then looked at me and laughed a little bit, and scratched me behind my ears. His tea must have been too sweet with the cat hairs in the cup.
This can only mean one thing.  I am sweeter than sugar!
How about in your habitat?  Do you sometimes find a few cat hairs where they don't belong?  Do you think that is sweet too?