Your Cat Can't Control Her Desire to Climb
Your cat's desire to climb is hardwired.  She has an inherent need to climb and  observe from a high perch.  She can't help this desire; it is part of her true nature. If  your cat  is climbing your curtains, jumping up on your counters, or patrolling the back of your sofa maybe it is because you haven't provided her a suitable alternative.  Your cat needs to seek refuge in a higher location, so instead of feeling frustrated and fighting your cat's natural instinct, help her find a good place to climb.
Why Your Cat Needs to Climb
Cats are both predator and prey in the wild.  Cats know at any time they could fall victim to one of their predators. For this reason, cats need to take refuge in high places to both stay safe and to watch for potential prey. The leopard is the most adept of all  big cats at climbing trees. The agile leopard  has a unique locking wrist and their scapula is attached to their muscles enabling them to scramble swiftly into the treetops.
Even though your cat might not climb as well as her big cat cousin, she is always on the lookout for a safe place to sleep and observe her surroundings. Your house cat might be much smaller, but she thinks  like a leopard. If your cat doesn't have access to a high place to perch, this might be why she is climbing the curtains.
 The Cat's Trapeze Provides an Alternative to Curtains
The Cat's Trapeze offers kittens and active cats the perfect place to play and rest. The unique suspended design is attractive to active cats, challenging them to climb and play while drawing their attention away from curtains and furniture. The large soft cushions also provide a cozy place for a catnap.
The Cat's Trapeze includes a bonus cotton hammock that attaches under the bottom pillow, creating an extra napping spot. The trapeze also comes with a small piece of sisal rope that is used to bind the trapeze straps together and attach to mounting hardware. (Mounting hardware not included.) More info about how to hang the Cat's Trapeze at catstrapeze.us/pages/about-the-cats-trapeze.
The Cat's Trapeze is made of sturdy cotton fabric and comes without the inner pillows. The trapeze can be stuffed with throw pillows, or for a more eco-friendly approach, use old towels, recycled clothes or crumpled newspapers placed inside a pillowcase. Inner pillows made especially for filling the trapeze can be purchased separately at catstrapeze.us.
The Cat's Trapeze is available in two styles: the 2-pillow trapeze and the 3-pillow trapeze. The 2-pillow trapeze measures approximately 3.5 feet, not including the hammock. The larger bottom cushion measures approximately 24 inches in diameter and the upper cushion measures approximately 20 inches. The 3-pillow trapeze measures approximately 4.5 feet, not including the hammock, with the two bottom cushions each measuring approximately 24 inches in diameter and the upper cushion measuring approximately 20 inches.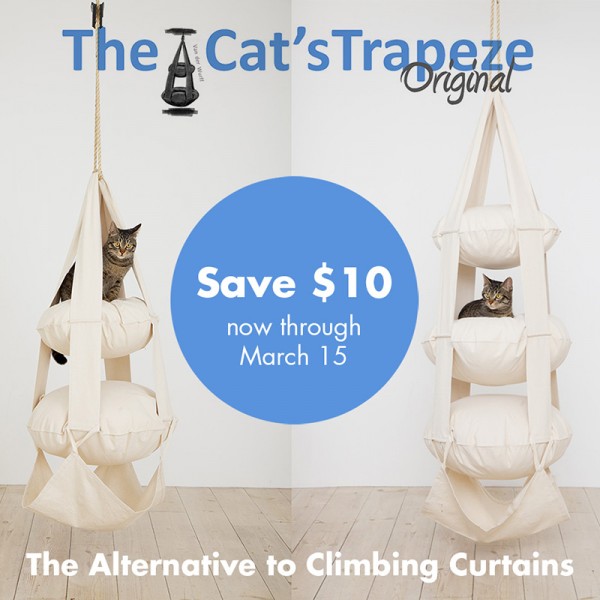 If you have been looking for a way to keep your cat from climbing your curtains, The Cat Trapeze might me the solution and members of The Tiniest Tiger community can save $10 by using the code TTSAVE10
To learn more about The Cat Trapeze visit their website: catstrapeze.us

Your $10 discount will be applied to each trapeze ordered.
Your discount code is active through 11:59 pm on March 15, 2015.