This post is sponsored by Rachael Ray Nutrish. All thoughts and opinions are our own. As always, thank you for reading and supporting our sponsors.
How  Annie and Eddie Spend Their Day With Us
Our day starts pretty early with the alarm going off at 3:30 am most days.  Eddie joins Paul in his morning routine. He follows Paul  to the kitchen and circles around his feet while he makes a cup of coffee. Paul hasn't gone back to drinking tea. 
After a bit of news watching and coffee drinking Eddie follows Paul into the bathroom and acts as a lifeguard while he takes a shower. Then Eddie supervises while Paul shaves and finisheses getting ready.  Annie usually curls up closer to me in the early morning hours and I have to admit it doesn't take much persuasion to snuggle with her for a bit longer.
Play Time in the Sun Room
After I serve Annie, Eddie and Mercy breakfast, the sun room is unlocked and all three cats run out into the room to play and watch birds.  Mercy typically claims a seat on one of the sofas and Annie and Eddie engage in all kinds of games.  I head into the office with my coffee and begin my work day.
Sometimes one of the cats is ready to take a nap but the other isn't quite ready.  Eddie likes to curl up for a nap inside the green agility tunnel.  He feels safe and secure inside.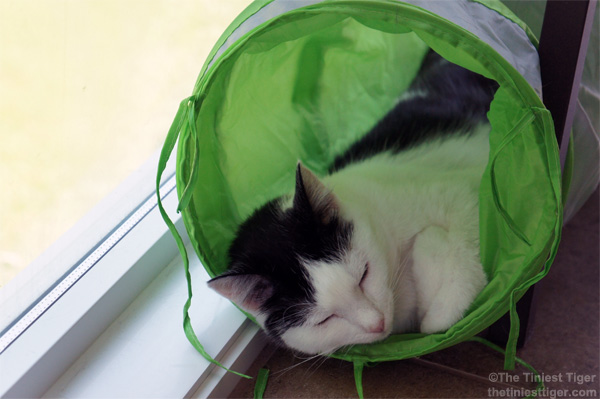 Annie often feels a bit mischievous and plans a sneak attack on Eddie.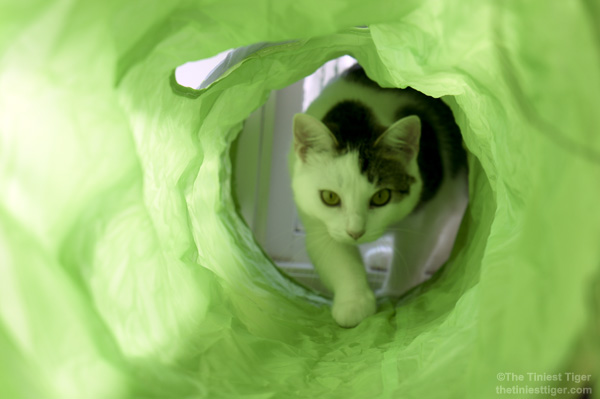 She doesn't make it most of the time. Eddie wakes up and jumps out of the tunnel.  This does not prevent Annie from trying again the next time he naps there.  The two usually end up taking a serious nap on the Cat Power Tower after some intense bird watching.  Most days there are squirrels, rabbits, groundhogs, sometimes a neighbor cat, an occasional fox and white tail deer to keep them entertained.
Afternoons in the Home Office
By afternoon they come to visit me in the office.  They spend time with Bad Kitty, play with toys and come to watch me work on the computer.  Some days I have a box with brown crinkly paper in it for them to jump in and out.  It is no surprise that the cats  really love playing in the box.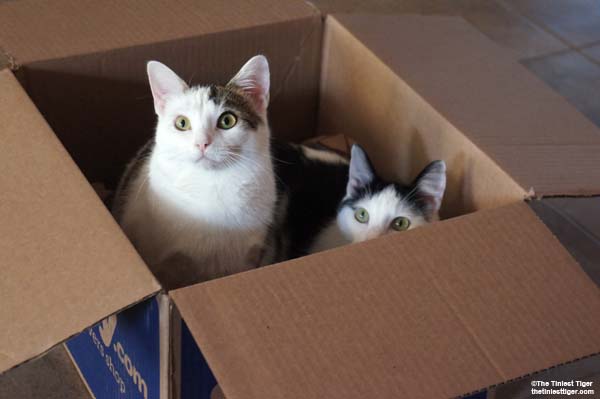 The Cats Wait for Paul To Come Home From Work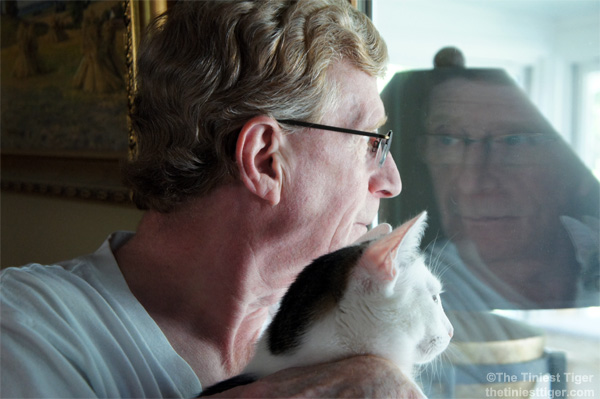 Mercy takes his place on a kitchen stool with a clear view of the garage door while Annie and Eddie watch from the office. They know when they hear the garage door go up that Paul will be coming in the door soon.  Mercy runs to the door to greet him and Annie and Eddie arrive next.  It sure is heartwarming to be greeted by the cats when you come back home.
Annie likes cuddle time with Paul and they often take some time to look out over the backyard before dinner.  After dinner, we spend time playing with all three cats.  We use wand toys, along with furry little toys.  I have been training Annie to jump through a hoop.  She really loves it.  The boys don't seem to be interested at all.
Evening  Time is Snuggle Time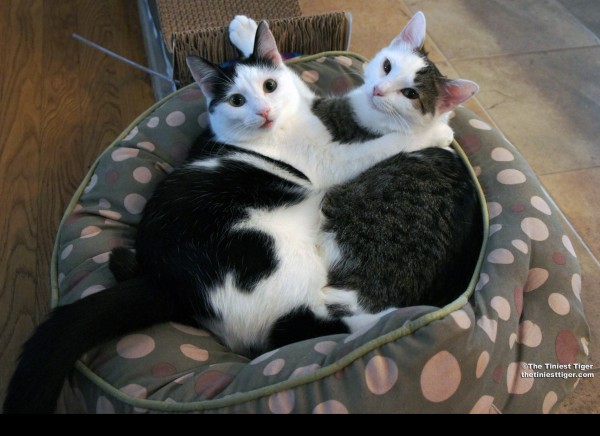 Annie and Eddie like to rest up after a good play session.  Mercy likes to spend time with Paul's mom and he often goes to sleep beside her.  But once the lights are out and we all settle down, it is the cat version of the Indy 500.  All three cats run all around the house, down and up the stairs, back around the house.  I have to admit I like hearing their little paws scampering all around having fun.
After they get all of their running done, Mercy settles down for the night with Paul's mom and Eddie comes into play Games for Cats on the iPad.  Annie plays for a few minutes and then yawns with boredom.  She curls up at the foot of the bed where Eddie joins her when he finishes chasing the mouse on the iPad.  Then we all fall asleep for the night.
We hear the alarm at 3:30 am. and we start all over again.  How do you spend the day with your cats?