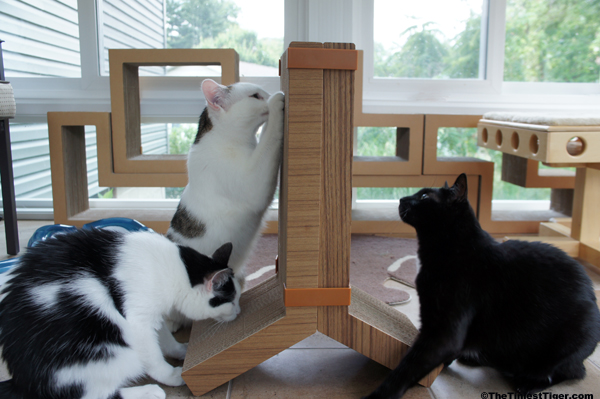 KATRIS Introduces New KATRIS Lynks
Annie, Eddie and Mercy love KATRIS.  In fact, if you look at the photos, you will see their KATRIS blocks in the sunroom behind them.  So it  didn't take long for the cats to get excited about the new long lasting modular cat scratcher pair called KATRIS Lynks that our friends at Papercut Lab sent to us.
KATRIS Lynks Are More Powerful in Durability
KATRIS Lynks cat scratchers are a little bigger than most cat scratchers, but are more powerful in durability, shred-resistant material, and functionality. The Lynks are made from heavy-duty paper with stronger flutes and liners (which make up the cardboard structure) than any other cat scratcher brand on the market.
In tests, KATRIS Lynks were able to withstand more weight,easily holding over 200 pounds, more "scratching-force," and produced significantly less amounts of shredding, to help keep your home cleaner. We have had our KATRIS blocks for a couple of years now and they are still in great shape and the blocks get a big workout almost every single day from the cats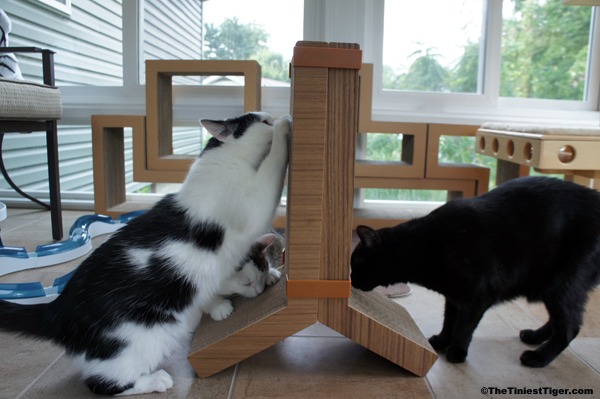 KATRIS Lynks are Modular
KATRIS Lynks are modular, so they can be placed and rearranged in many different combinations and builds either on their own, or in combination with other KATRIS blocks, which increases options for play and fun for cats and their owners (or vice versa).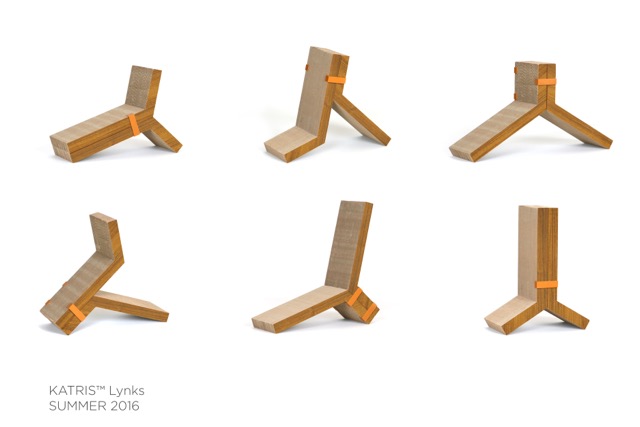 KATRIS Lynks' superior material and craftsmanship allows them to last longer than other cat scratchers,  eliminating your need to purchase a multitude of replacement pads. KATRIS Lynks come equipped with real Teak wood covers on their sides, making them look stylish in homes, as well as protecting the pads from wear and tear.
Exclusive Discount Price
KATRIS Lynks will be sold at an exclusive 10% discount price through a 3-week pre-order on the brand's website www.katriscat.com/lynks starting July 25th, 2016.
They will be available for purchase on Amazon and select pet retailers starting August 16th, 2016.
KATRIS Supports the Paw Project
KATRIS will be donating 3% of all proceeds from pre-orders of the new Lynks to the Paw Project.
The Paw Project's mission is to educate the public about the painful and crippling effects of feline declawing, to promote animal welfare through the abolition of the practice of declaw surgery, and to rehabilitate cats that have been declawed.
The brand KATRIS was created by Papercut Lab, which is a cutting-edge research and manufacturing company that was founded in 2013 by CEO Jeff Lin, and is based in Silicon Valley, California. The company's focus is using paper materials to create innovative and beautiful pet and consumer products that are multi-functional and environmentally-friendly.