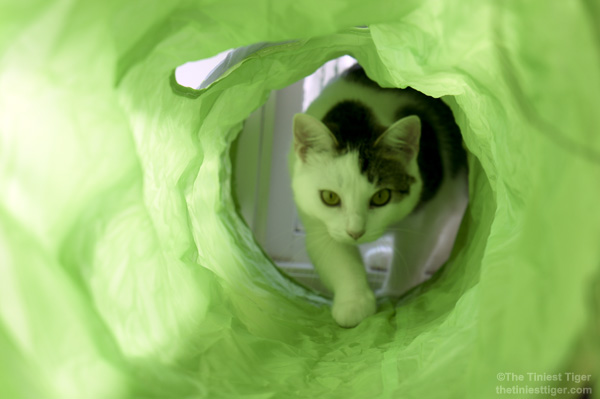 This post is sponsored by Purina. We are being compensated for helping spread the word about Purina's Google Hangout with Dr. Kurt Venator discussing how cat owners can help their cats stay fit and healthy this summer, but The Tiniest Tiger only shares information we feel is of interest to you.
Google Hangout with Dr. Kurt Venator
I was invited to participate in  a Google Hangout hosted by Purina with Dr. Kurt Venator  discussing how to help keep our cats fit and healthy during the summer. One of Purina's goals is to promote the health and well-being of pets and their people so they can live bigger, healthier and happier lives together.   The hour was filled with lively conversation and tips on how to fit a workout for you and your cats into every day.  Play time with our cats is not only fun but good for us too!
Keep Your Cat Fit By Having Fun
One of the questions asked during the Hangout was when you have more than one cat, what is the best way to play to make sure all the cats are engaged and enjoying the play time.   Sometimes if two cats are playing with the wand toy, one of the cats will disengage and walk off.  You will learn what your cats like and what they don't like.
Paul and I try to engage in play with the kitties every day.  It is one of the best parts of our day.  Annie is  the perfect hide and seek partner.  She loves it and we love to see her go into  leopard-like stealth mode while she sneaks up on us. Eddie loves wand toys and Mercy likes to chase after the red dot.  Annie loves to run through the tunnels and will even jump through a hoop for us.  Eddie plays independently with toys far more often than Annie or Mercy.
Annie, Eddie and Mercy are pretty active.  They play tag and race around the house every single day and sometimes in the wee hours of the morning.  I love to hear their paws scampering up and down the stairs. Mercy was living a more sedentary lifestyle prior to moving in with Annie and Eddie. Now, Mercy is engaging in play and has gone from being a bit pudgy to being at his ideal weight.
Where Does Your Cat Fall on the Body Condition Chart?
Another great question during the Hangout was how do we know if our cats are overweight?  We always recommend asking your veterinarian to confirm your cat's body condition but you can check out a Body Condition Chart to get an idea of where your cat falls on the scale of 1 to 9 with 5 being Ideal.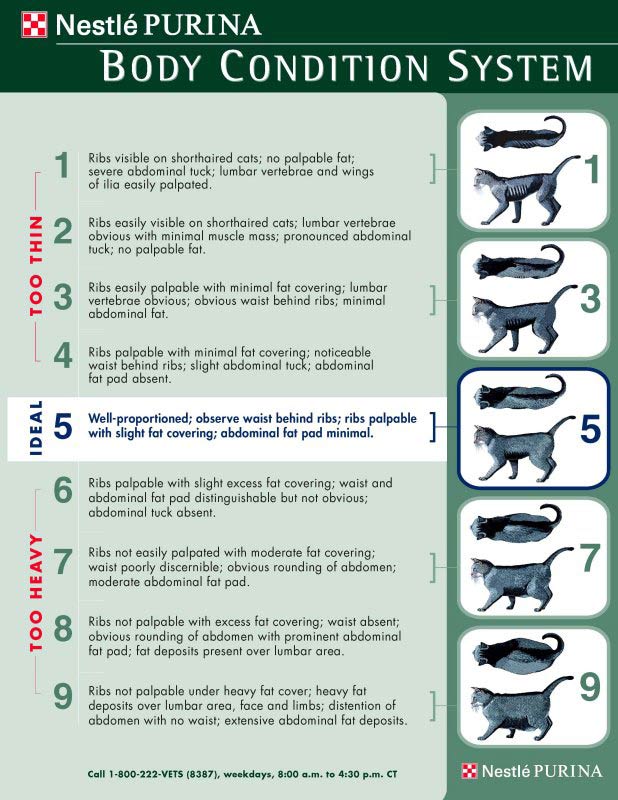 Are Your Cats Treat Motivated?
If your cats are treat motivated, our Annie is the most treat motivated among our cats, make sure you follow the suggested portion control guidelines.  Even these small bites can add up and make it harder for your cat to maintain and ideal weight if they are given too many.    Dr. Venator talked about the fact that the portions on the packages of your cat's food and treats are based on research from the veterinarians and scientists at Purina.  To learn more about how to make a big difference in the life of your pet check out Purina.com