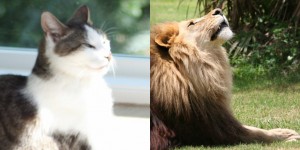 Good Morning Sunshine!
I meant that for the sun and for all of my Friends that brighten my day!
Now that the morning air is a little crisp and there is a gentle breeze, I couldn't help but think about our big cousin Joseph at Big Cat Rescue.  Now I know, you can't tell the difference between Joseph and me, Gracey, The Tiniest Tiger and that is alright for a Tuesday after a long week-end.  And besides, I am really getting good at my big cousin imitations, so try not to let it get you down if you can't tell us apart.
We are both enjoying the sun and we both have big smiles on our faces.
Hakuna matata!
Thank you everyone!  Meow for Now!