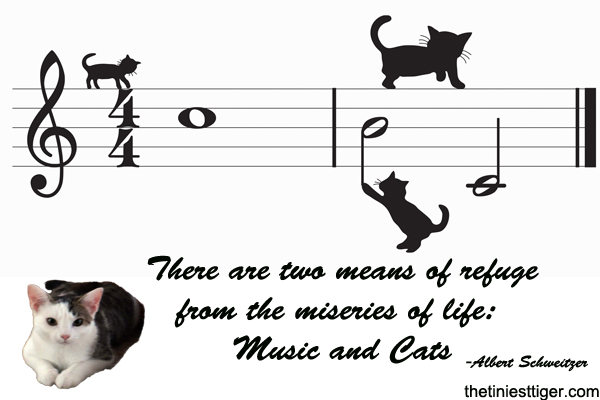 Music To Your Cat's Ear
Is your cat stressed out, anxious or afraid?  Is your cat restless or having difficulty settling down and sleeping?  Any howling, fighting with other cats or pets, hissing or does she hide more than you see her?  There is a new tool that might help to relieve your cat's stress without resorting to pharmaceuticals.  And that tool is music.
One of the topics at the Purina Better With Pets Summit  was Sound Therapy for Improved Health and Behavior presented by Joshua Leeds and Lisa Spector. Leeds is a psychoacoustic engineer and Spector is a Juilliard-trained concert-pianist. Together they make music to help relieve pet anxiety. Since the 2008 release of Through a Dog's Ear, there has been an outpouring of requests for music specifically for cats.
Keeping Your Cat Calm Through Music
Scientific research examining music and sound and the effect on cats has been scarce but Leeds found recent research by Dr. C.A. Tony Buffington, from Ohio State University, showing that feline interstitial cystitis, a leading cause of euthanasia, is primarily caused by stress. Change in the cat's physical environment, strangers, different food, loud noises, and new animals brought into the home all create stress for felines. Acute stress turns into chronic irritation resulting in disease and behavioral challenges. Cats need their homes to be stable and consistent.
 Through a Cat's Ear: Music for Calming
 is the first in a series specifically designed for house cats.  The music was created to reduce stress in a chaotic or changing environment. Leeds and Spector's sonic toolkit began with sound therapies with neurodevelopmentally-challenged humans in which tone, tempo, and pattern are considered. The frequency range was adjusted to a cat's auditory range and a new experimental technique  called sonic anchoring was included.  The goal is to create a mental and emotional sense of safety arising from the familiar. This familiarity is achieved through a recognizable sequence of notes. The music on Through a Cat's Ear is purposely repetitious.
Listen and see what you think.
Humans listening to these interludes hear repeating melodic intervals, while cats might hear these intervals as a familiar frequency matrix. Cats are not only hearing the music, but are feeling a sequence of vibrational frequencies. The cats may recognize this sensory information in much the same way as a favorite taste or aroma, a best friend's voice or a mother's touch. Familiar sensory cues can have a profound and calming effect on the nervous system while providing psychological security.
To further enhance the therapeutic impact of Through a Cat's Ear, the duo removed higher frequencies from the re-arranged piano music. Frequency modulation also takes place in the mid and low frequency ranges. Through progressive modulation, "arousing" frequencies are reduced and "soothing" frequencies are increased.
Through a Cat's Ear, Volume 1, Music for Calming
 released in 2013 combines music and sound therapy techniques specifically designed for feline anxiety issues. Leeds and Spector suggest playing Music for Calming often and at a very low volume. You want your cat to become familiar with the music so they suggest one to three times a day for the first month.  Through a Cats Ear, Volume 2, Music to Stimulate
will help satisfy your cat's need to hunt and play on a regular basis. Six invigorating tracks featuring piano, cello, oboe, and flute.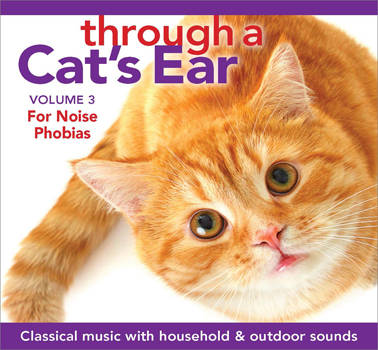 Through a Cat's Ear, Volume 3, Music for Noise Phobias will be released in March, 2015. This volume is designed to help if your cat is easily frightened by visitors, thunderstorms, car horns, and other noises. This rearranged classical music with household and outdoor sounds incorporates multiple bioacoustic techniques, including frequency modulation and sonic anchoring, to create an emotional sense of safety that arises from familiarity.

Purina's Better With Pets Summit brings leading scientists and pet experts together to showcase how innovations are enhancing relationships between people and pets. The second Better With Pets day long event was held Tuesday, October 15 in New York City and featured fifteen expert presentations on scientific, nutritional and behavioral innovations to help better understand why our lives are better with pets.
I was invited to attend the Purina Better With Pets Summit in NYC. My travel and accommodations were provided by Purina. All opinions are my own and Purina is not responsible for the content of this article.