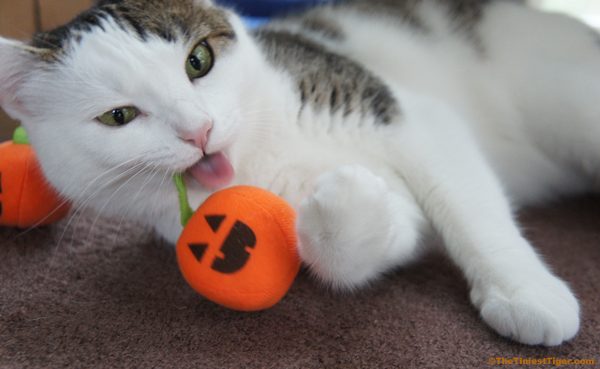 Rachael Ray Nutrish has sponsored this post, but all opinions are my own.
Annie, Eddie and Mercy, like most cats, like to get new toys.  When we saw these cute little jack-o-lantern cat toys we couldn't resist putting them in our cart.
Eddie is typically the one that plays the longest with toys, but today, he sniffed the little pumpkin and then walked away.
When I looked in on them, I noticed that Annie had gathered up Eddie's little jack-o-lantern and put it beside her own.
 Eddie didn't really seem to mind, but I thought I would get the toy and give him another go at it. So I walked over to pick up one of the toys but Annie wasn't having any part of giving up one of the toys.
She even went so far as to throw one of the toys behind her in an attempt to hide the second pumpkin toy from me.  I had to laugh and said, Ok Annie,  you can keep Eddie's pumpkin.  Eddie didn't seem to be too interested in it anyway.
Mercy looked over his little jack-0-lantern toy but he didn't seem to excited either.  Paul decided to get in on the action by wearing a tiger mask and presenting Mercy with the toy.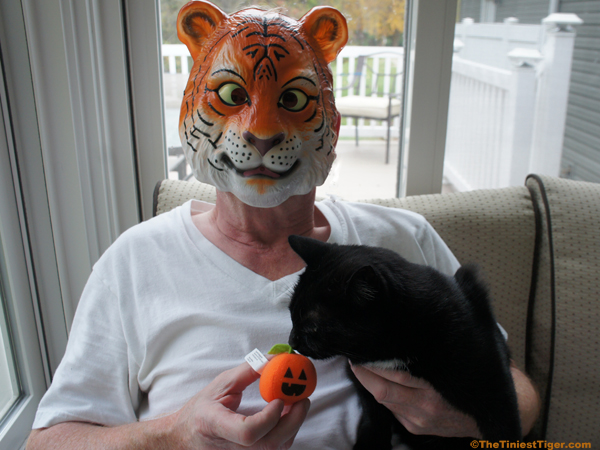 I told Paul to make sure that Annie didn't see him in that mask.  This is the one thing that we have found that scares Annie.  She doesn't like Paul wearing that mask at all.
This time Annie didn't seem to care about Paul wearing the tiger mask but took the opportunity to seize Mercy's jack-o-lantern toy.  When I checked in on the cats and Paul, Annie was hoarding all three toys.
We never know for sure what the cats will enjoy playing with and most of the time it is Eddie that plays the longest with toys. Mercy plays off and on and Annie picks a favorite and plays with it for awhile before looking for another one.
One thing all the cats love is a tasty treat at the end of a long play day. Mercy and Eddie don't even mind sharing a  dish when it comes time for their  wet food. This night they are feasting on Rachael Ray's Nutrish Chicken Purrcata. Annie is eating too, but as you just saw, she isn't in the mood for sharing.  Happy Halloween!
A portion of Nutrish proceeds go to Rachael's Rescue®, which was created to help animals in need. To date, over $14MM has been donated. This money has gone toward food, medical supplies and treatments for these unfortunate animals.