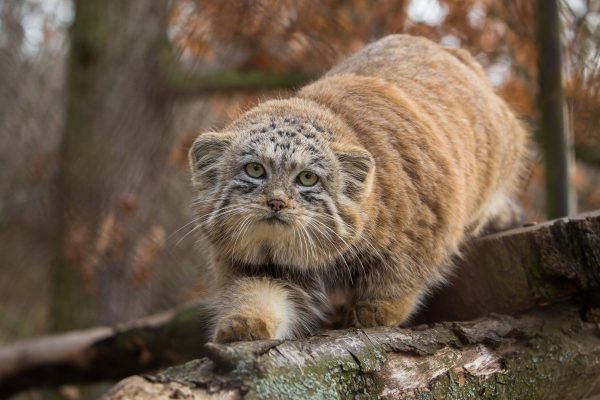 Pallas Cats As Pets?
Can you have Pallass cats as pets? The answer is no. The cats are cute and cuddly looking but are not suited to be kept as a pet in a home. Also known as Manuls, and sometimes mistakenly called Pallas cats, Pallas's cats are small wild felids native to Central Asia.
Pallas cats have a flat, round face with high-set eyes, giving them what many consider a grumpy look. The combination of cute, grumpy face and shy nature make Pallas cats irresistible to many people. Despite their seemingly grumpy appearance, they are actually quite shy and elusive creatures. These wild cats have gained popularity on the internet due to their unique appearance and expressive faces, but make no mistake, they are not pets.
Being wild animals, Pallas's cats have specific needs and behaviors that differ significantly from those of house cats. These differences make them unsuitable for pet ownership. They are not adapted to a domestic setting. Additionally, their conservation status as a near-threatened species makes it critical that these cats remain in their natural habitats to help conserve populations and ensure their survival in the wild.
Key Takeaways
Pallas's cats are wild animals not suited to be kept as pets
Their needs and behaviors differ significantly from domesticated cats
Conserving their population in the wild is crucial for their survival
About Pallas's Cats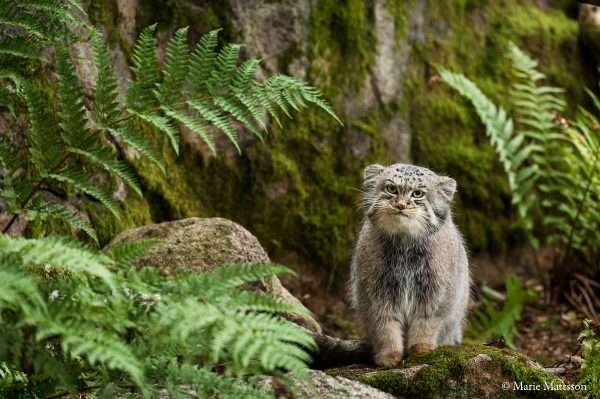 Let's take a closer look at the Pallas's Cats and what makes them unique.
Physical Appearance
The Pallas's cat (Felis manul), also known as the manul, is a small wild cat with a distinct appearance. They have long, dense fur that is predominantly gray with dark stripes. The body length of a Pallas's cat ranges from 46 to 65 cm, and their weight varies between 2.5 and 4.5 kg. These cats have round ears and a broad head, giving them a unique, expressive look.
Behaviour and Habits
Pallas's cats are solitary and known as the world's most secretive cat. and can be quite aggressive when feeling threatened. They are known to purr and growl, much like domestic cats, and they use scent marking to communicate with other cats in their territory. The Pallas's cat is primarily nocturnal, hunting and being active during nighttime hours.
Habitat and Distribution
These wild cats can be found across a vast range in Asia, including Mongolia, Central Asia, China, Pakistan, Iran, India, Kazakhstan, Afghanistan, Russia, Kyrgyzstan, Bhutan, and Nepal. Their habitat consists mainly of rocky outcrops and mountainous regions at altitudes of up to 4,000 meters. Pallas's cats can also be found in Siberia, Central China, and Southern Russia.
Pallass Cats Diet and Hunting
Pallas's cats have a diverse diet, mainly preying on small mammals, birds, rodents, pikas, voles, and hares. Ground squirrels account for a significant portion of their diet as well. These cats are opportunistic predators, hunting and eating whenever they can find their prey. Their unique fur coloration helps them blend into their surroundings, making it easier to surprise and ambush their prey.
Reproduction and Development
The breeding season for the Pallas's cat usually begins in the early spring. Their gestation period typically lasts around 66 to 75 days, with the mating season occurring during this time. After giving birth, the female Pallas's cat cares for her young, known as kittens. As they grow and develop, the kittens will eventually leave their mother's care and establish their own territories.
Pallas's Cat as a House Cat
Pallas's cats, also known as Otocolobus manul, are wild felids that may look cute and similar to a cuddly Persian cat, but are quite different from domestic cats. Like their domestic counterparts, Pallas's cats have a round face and a fluffy fur coat. However, these wild cats are not suitable as pets due to their specific needs and behaviors.
Native to Central Asia, Pallas's cats are adapted to live in harsh, cold environments and are known for their solitary and shy nature. They have unique habitat requirements, such as high-altitude grasslands and rocky terrains for foraging and hiding from potential predators. These specific needs make it difficult for them to adapt to a life inside a human home.
No History of Bond with Humans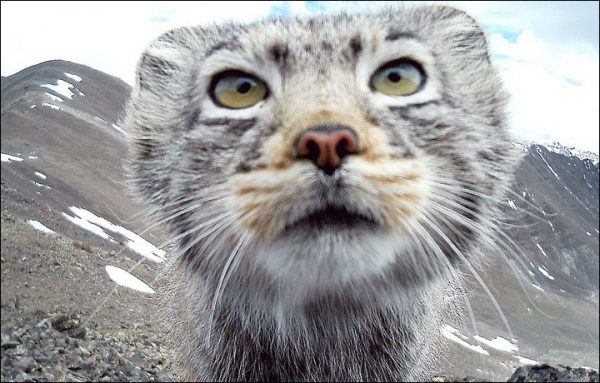 Comparing Pallas's cats to a common house cat, it is important to note the considerable differences in their behaviors. Domestic cats are more adaptable, social, and can bond with humans over time. Pallas's cats, on the other hand, have not undergone such a long period of socialization and remain inherently wild.
In addition, keeping wild cats like Pallas's cats as pets can contribute to their declining numbers in the wild. They are considered a near-threatened species, and capturing or breeding them for pet trade can have detrimental effects on their conservation status. The ethical implications of trying to domesticate a Pallas's cat must be considered, as doing so could contribute to the decline of their already fragile populations.
In conclusion, despite their adorable appearance, Pallas's cats are not suitable pets due to their unique habitat requirements, inherently wild nature, and conservation concerns. It is important for cat enthusiasts to appreciate these fascinating creatures from afar and focus on responsible pet parenting by adopting domestic cats that are more suited to living alongside humans.
Comparison Between Pallas's and Other Cats
Pallas's cats, also known as manuls, are small wildcats native to the Central Asian grasslands and steppes. While they have a distinctive and endearing appearance, these cats are not suitable as domestic pets. In this section, we will compare Pallas's cats to other feline species, such as the leopard cat, domestic cat, house cat, and Persian cat.
Pallass Cats Size and Facial Features
In terms of size and facial features, Pallas's cats are relatively small, averaging around 60 cm in length and weighing between 2.5 to 5 kg. This makes them larger than a house cat but smaller than a leopard cat. Their coat is thick and wooly, which helps them adapt to the cold climates in which they are found. Despite their round face and charming expression, Pallas's cats are wild animals adapted for solitary life and hunting small prey, such as rodents and birds.
Leopard cats, on the other hand, are more similar in size to domestic cats, with a sleek body and longer legs. Their coat is adorned with a pattern of spots and stripes, providing camouflage in their natural habitat. Like Pallas's cats, leopard cats are wild animals and are not suitable as pets.
Domestic cats and house cats are terms used interchangeably to describe Felis catus, a species that has been bred and domesticated over thousands of years for companionship and pest control. They can vary widely in size, coat color, and patterns, and are the most common type of feline found in households across the world. Domestic cats are social animals that can adapt to living with humans, making them suitable for pet parenting.
Persian Cats Instead of Pallass Cats as Pets
Persian cats are a specific breed of domestic cat known for their long, luxurious coat and distinctive appearance, characterized by a wide, flat face, and a short, sturdy body. They are among the oldest and most popular cat breeds, originating from Persia (modern-day Iran) and brought to Europe in the 17th century. Persian cats require regular grooming and maintenance due to their long fur but are generally known for their docile and affectionate temperament.
While Pallas's cats may resemble domestic cats in some ways, they are wild animals with different behavior, adaptations, and habitat requirements. Other species, like leopard cats, share similar distinctions and should not be considered as pets. Domestic cats, including house cats and specific breeds like Persian cats, are bred and adapted for human companionship and remain the best choice for pet ownership.
Conservation Status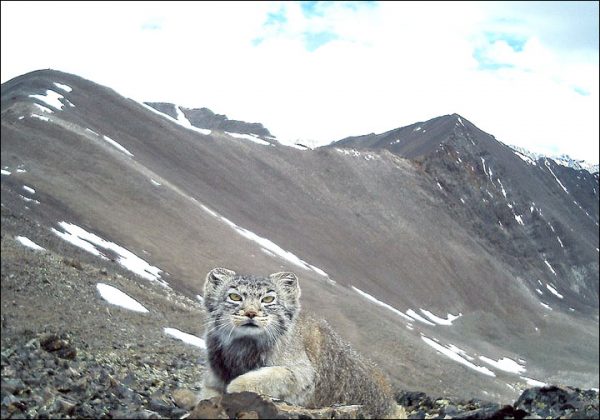 Threats to Pallas's Cats
Pallas's cats are facing several threats in the wild. One of the primary concerns is habitat loss and fragmentation, which has been affecting their survival. Additionally, human-animal conflicts have also increased in areas where the Pallas's cat shares its territory with humans. Hunting is another concern for the species, as they have been hunted for their fur. While not as significant as habitat loss, hunting still poses a threat to the overall population of Pallas's cats.
Conservation Efforts
To ensure the survival of the Pallas's cat, various conservation efforts are being undertaken by different entities worldwide. Current projects include conducting research to better understand the overall distribution, habitat preferences, and behavior through tracking hormone status in wild species. Moreover, organizations are striving to foster cooperation among local communities and government agencies to implement effective strategies for mitigating human-animal conflicts and reducing habitat loss.
Current Survival Status
As of now, the Pallas's cat is classified as "Near Threatened" on the IUCN Red List. While this status indicates that the species is not in immediate danger of extinction, the fact remains that the population has been facing a decline due to the various threats mentioned earlier. Maintaining a focus on conservation efforts and research will be crucial in understanding and addressing the challenges surrounding the survival of the Pallas's cat in the wild.
Conclusion
Pallas's cats are indeed cute creatures, but they are not suitable as pets. These wild felids possess unique characteristics and behaviors that make them ill-suited to domestic environments. As a species native to the grasslands and montane steppes of Central Asia, they thrive in their natural habitat, and it would be detrimental to their well-being to be kept as pets.
Their elusive nature and preference for solitary living mean that adapting to human companionship would be a challenge for the Pallas's cat. Moreover, their specialized diet, comprised mainly of small rodents, requires specific conditions that are not easy to provide in a home setting. Additionally, understanding and catering to their medical, physical, and emotional needs can be a complex undertaking for the average pet owner.
Attempting to domesticate Pallas's cats may result in unintended consequences, such as stress and anxiety for the animal, as well as potential legal ramifications. Various countries have laws in place to protect wildlife, which often include restrictions on keeping exotic animals as pets. By respecting these regulations and acknowledging the needs of these fascinating felines, we can ensure their continued survival in the wild, while admiring their beauty from a distance.
In conclusion, the unique characteristics of the Pallas's cat call for their appreciation and respect as wild animals, rather than attempts to make them into pets. By doing so, we can contribute to the conservation of these captivating creatures and preserve their existence in their natural habitat.
Frequently Asked Questions
Where do Pallass cats originate?
Pallass cats, also known as Manul, are native to Central Asia. They can be found in countries like Mongolia, Russia, China, and several others. Their habitat ranges from cold, mountainous regions to semi-arid grasslands and steppes.
What are some interesting facts about Pallass cats?
Pallass cats have a unique, stocky appearance due to their thick fur, which helps them survive in harsh, cold environments.
Their fur coloration varies from gray to yellowish-brown with dark, vertical streaks, providing excellent camouflage against their natural surroundings.
Pallass cats have round pupils, which is unusual among small wild cats.
They are excellent hunters, mainly preying on rodents, small mammals, and birds.
Pallas cats are solitary creatures and have a primarily crepuscular or nocturnal lifestyle.
How big do Pallas cats typically grow?
Pallas cats are similar in size to domestic cats, but their thick fur makes them appear larger. They typically weigh between 4 and 13 pounds (2 to 6 kilograms) and have a body length of 18 to 26 inches (45 to 65 centimeters), with a tail length of roughly 9 to 14 inches (23 to 36 centimeters).
Can Pallas cats be domesticated as pets?
Pallas cats are wild animals and should not be kept as pets. They have not been domesticated and possess natural behaviors that are not suitable for a home environment. In addition, they might carry diseases that can be transmitted to humans or other animals. Pallas cats should be appreciated in the wild and at accredited wildlife facilities.
Do Pallas cats mate with domestic cats?
There is no evidence of Pallas cats mating with domestic cats. These species have different mating behaviors and reproductive cycles, making it unlikely for them to interbreed. Furthermore, their habitats typically do not overlap, so instances of contact between Pallas cats and domestic cats are rare.
Are Pallas cats aggressive in nature?
While Pallas cats are predators and can be aggressive when hunting or threatened, they are primarily solitary and elusive animals. They tend to avoid contact with humans, as well as other large predators, and are not considered dangerous unless provoked.