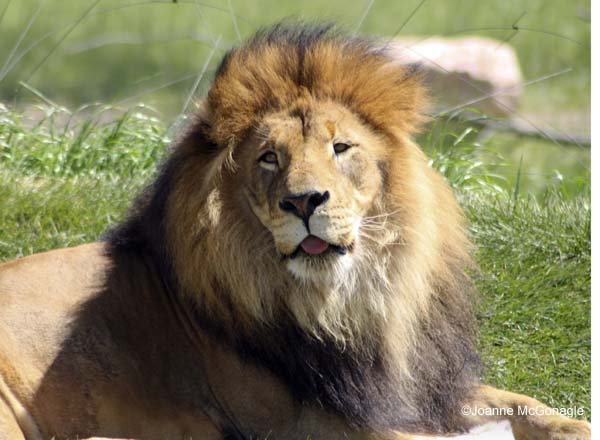 U.S. Fish and Wildlife Service Protects the Lion
Last week, on December 23, amid the hustle and bustle of the season, the United States Fish and Wildlife Service announced new protections for the lion under the U.S. Endangered Species Act. This designation has been a long time in the making. Some of you might remember us asking you to sign the petition for this listing back in December of 2012. At last, there is progress.  U.S. Fish and Wildlife Director Dan Ashe reminds us that it is up to all of us, not just Africa and India to protect the iconic cat.
"The lion is one of the planet's most beloved species and an irreplaceable part of our shared global heritage. If we want to ensure that healthy lion populations continue to roam the African savannas and forests of India, it's up to all of us – not just the people of Africa and India – to take action."
Director Ashe's Video Message Listing the Lion

Dr. Luke Hunter, President and Chief Conservation Officer for Panthera applauded the landmark designation and protection of the lion as Endangered in India, West Africa and Central Africa and "Threatened" in East and Southern Africa, under the Endangered Species Act.
Dr. Hunter said, "Today's listing establishes important science-based standards for the international trade in African lion trophies. As a wild cat conservation organization, Panthera is committed to reversing the lion's precipitous decline. In the face of the overwhelming pressures on African lions, we must raise the bar on legally allowed trophy hunting.We need an above and beyond standard that requires scientific evidence that lion populations are either being maintained at robust levels or increasing in the presence of trophy hunting.  We are heartened that USFWS will now require proof that the presence of trophy hunting demonstrably enhances the conservation of lions. Simply being 'sustainable' is no longer enough."
Hunter went on to say, "Today's listing of the lion is a wake-up call to the world that we are losing Africa's top predator and one of the most marvelous species to ever grace our planet. This designation is just the beginning of the fight to save the lion. My hope is that the ESA listing catalyzes a new era, of deeper, richer and better resourced cooperation between African governments and the international conservation community to save Africa's great cat."
Issues facing the lion  will be the focus of the Cecil Summit being held in 2016 by Panthera and Oxford University's Wildlife Conservation Research Unit (WildCRU). The head of WildCRU, Professor David Macdonald stated, "It is very gratifying to see the U.S. Fish and Wildlife Service acknowledging the gravity of the lion's decline, but we have a great deal of work still ahead. The Cecil Summit will look for novel ideas from all branches of learning to help develop solutions to these formidable challenges, of which trophy hunting is just one aspect."