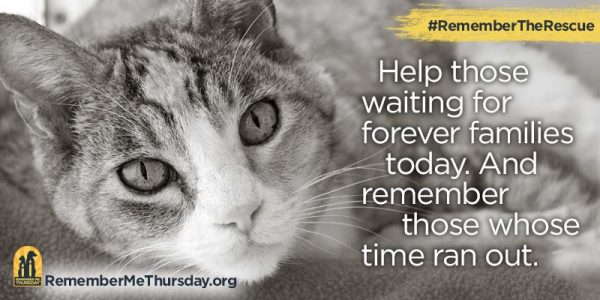 Shine a Light on Orphan Pets Waiting For Forever Homes
You know how much your cat and dog mean to you and it is hard to imagine our lives without our furry family members. Most of us agree that when we rescued our friends, that they returned the favor by rescuing us too. But many animals are waiting, through no fault of their own, for their forever homes.  Remember Me Thursday was created to shine a light on orphan pets waiting for forever homes.
You can light a virtual candle to spread awareness of orphan pets.  Shine a light and share your message. Light My Candle
Here is our candle in memory of Gracey, The Tiniest Tiger.
Today, Thursday, September 22nd, pet-lovers and animal rescue groups around the world will create an unstoppable, integrated voice advocating for orphan pets to live in forever homes, not die waiting for them, through social media postings and grassroots events.
Helen Woodward Animal Center invites those who live  nearby you can t take part locally at the Remember Me Thursday® Events . 
September 22 – Balboa Park – 5:45 – 7:00PM. (Actual Ceremony Begins at Approx. 6:30PM)
(6th Avenue, between El Prado & Juniper; near Nate's Point Dog Park)
Join Helen Woodward Animal Center staff, volunteers, friends, and dogs as we shine a light on orphan pets on this global pet adoption awareness day. This FREE dog-friendly/family-friendly event features:
Live acoustic music by Maddie Leigh

Kid's coloring and crafts to commemorate the day

Dinner and dessert for purchase from food trucks donating a portion of sales to the pets and programs at Helen Woodward Animal Center 

(Sushi Uno, Seoul Man, Tacos La Mezcla and Simon's Ice Cream Company)

Giveaways from Blue Buffalo

FREE Remember Me Thursday® T-shirts to the first 100 adults and first 50 kids

FREE Remember Me Thursday® Bandanas to the first 25 dogs

An opportunity to write a special message on the 2016 Remember Me Thursday® Banner

An opportunity to donate a bag of unopened dog or cat food to Helen Woodward Animal Center's AniMeals program  
A special candle lighting ceremony at dusk including

An uplifting presentation from Helen Woodward Animal Center President & CEO, Mike Arms

A Remember Me Thursday® mayoral proclamation

A reading of the Remember Me Thursday® poem penned by Arms

A viewing of the official 2016 Remember Me Thursday video
 #RememberTheRescue on Remember Me Thursday
This beautiful and heartfelt song  "This Candle Burns Bright" by Stevie Woodward is the official Remember Me Thursday song.  Tissue warning.
Even if you don't live in the San Diego area, there are still ways to get involved.  Individuals and animal welfare organizations are encouraged to get the entire world talking about pet adoption on Thursday, September 22nd, by tweeting, tagging, posting and sharing the beauty and life-saving significance of pet adoption using the hashtags #RememberTheRescue and #RememberMeThursday.