Annie and Eddie are waiting for Santa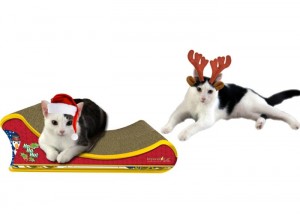 Reindeer are popular during the Christmas season. We see them in movies, in Christmas displays, on holiday greeting cards and of course pulling Santa's sleigh.  But in northern Scandinavia, reindeer are a part of everyday life for the Sami people of Lapland. Lapland is the Arctic homeland of the indigenous Sami people of Norway, Sweden, Finland and northwest Russia.
Since it is Annie and Eddie's first Christmas Eve and they are anxiously waiting for Santa, even though Annie's naughty tally might total more than her nice, we thought it would be fun to talk to the kittens about a few interesting things about reindeer.
Fun Facts About Reindeer