It has been one week since you've been gone and it seems like it's been a year to your dad and me.  A broken heart doesn't seem to understand or follow linear time. No need to break it down into the days, weeks, months or more just so we might think we should be feeling better. We should feel exactly how we feel.   We must acquiesce.
One day this past week your dad called me and asked if I would bring home a chocolate cake for him.  "A chocolate cake?" I asked.  And he said yes, that he needed comfort food.  I teased him by asking how long do you think you will be requiring comfort food and he answered  "Oh,  about another thirty years."  We both laughed and it felt good to laugh.  Oh and I did stop and pick out chocolate cupcakes for your dad.  And lemon cupcakes for me.  My resistance is low.
I was home today and it was the first day home alone all day without you.  I made it.  I only started to look for you a few times and when I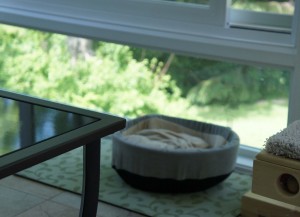 got the mail, I still went out on the porch with the door shut behind me. Closing the storm door is a habit started to protect you just in case you decided to bolt out the door. You never tried to leave the house, but  I never took the chance.
I opened up the sun room for the first time today. It is unseasonably cool today so I opened the windows and let the cool breeze come into the house.  I saw your little heated thinking circle unplugged and empty.  My  heart sank and I found it hard to swallow.  But I managed to step into the room and look out onto the backyard.
Bossy Backyard Blue Jay visited me.  He was really squawking up a storm too.  I thought I would be brave and go fill the feeders and deliver his peanuts.  I decided that I would wait until your dad came home so we could go out together.
I came back into the office and worked on a few things.   I heard the lawn mower start up and jumped out of my chair to hurry and close the windows to reduce the noise. You really didn't like the mower interrupting your thinking time in the sun room. I decided to leave the windows open and and saw your little heated thinking circle unplugged and empty.