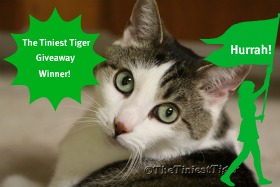 Congratulations to Abbi the winner of the MrChewy.com $25 Giveaway!

Mr. Chewy 's tag line is Delivering Pet Happiness and I can tell you that our  experience with Mr. Chewy's did in fact, deliver pet happiness to me, Gracey, The Tiniest Tiger and my parents.  We were contacted by Mr. Chewy to try out their online pet food and supplies delivery service.  I couldn't believe my luck when I read the email because you know that I get a little worried when my chow bowl gets low. I feel the most relaxed when the cupboard is full of my food. Mr. Chewy made it so easy to order that I was able to place my order without opposable thumbs!
The Mr. Chewy site is super user friendly, I mean even a dog could navigate through from first to last click. (No offense to my canine compadres)  You will find over 70 popular brands of cat and dog food, treats and supplies. You might find the prices to be less than in your retail store too.  And, the pet food that you order is delivered right to your door for FREE when you place an order for $49 or more. If your order is under $49 your order ships for only $4.95! That is less than it costs to send the parents out in the vehicles with a fancy "thinking beverage" to hunt in the retail jungle. The delivery right to your door  is super terrific because the bag of chow and the cans of food I ordered weighed more than me!
You can also set up your own delivery schedule to make sure that you never run out of food. There are no worries with the delivery schedule because you can make changes or cancel anytime. This is super appealing to me knowing that my chow bowl replenishment inventory will always arrive before my back up chow jar is even half empty. Super Hurrah!