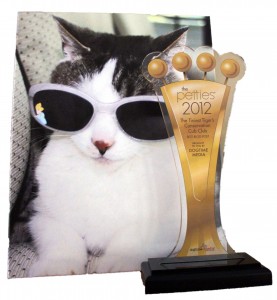 Thank you so much!
You did it! The Tiniest Tiger's Conservation Cub Club is a finalist for Best Blog Post in the 2013 Petties.  We are proud to be a finalist for our blog post Since You've Been Gone  Our Message to Gracey.  This post is very important to me as we work through our grief from losing Gracey.
We have been honored  for the past four years, since the Petties began.  We were thrilled to win the Pettie for Best Blog Post in 2012 for our Cat Obituary, Farewell Eastern Cougar,   I wanted the post to be a voice for the big cats and the trouble they are having surviving in human dominated landscapes. Winning the Pettie helped amplify that voice.
In 2010 we were a finalist for Best Cause Related Blog,  in 2011 for Best Cat blog, in 2012 we won for best blog post and in 2013 we are a finalist for best blog post.