The Tiniest Tiger is a finalist in the 2012 Petties Best Blog Post Category
I am pleased to tell you that  The Tiniest Tiger's Conservation Cub Club is a finalist in the 2012 Petties!
Our are up for Best Blog Post for our Cat Obituary, Farewell Eastern Cougar.  We are honored to be nominated again this year in the Petties. I am proud to be a finalist for our post about the Eastern Cougar's extinction.  I wanted the post to be a voice for our big cat cousins and the trouble they are having surviving in the human dominated landscape.
We have been honored for the past three years, since the first Petties to be nominated for an award. We were a finalist in 2010 for Best Cause Related Blog and in 2011 for Best Cat Blog.  This year we were nominated for Best Facebook Page in the Blogpaws Nose to Nose Awards and now we are a finalist in the Best Blog Post category for the 2012 Petties.
Gracey is the Reigning Susan Lucci of the Pet Blogging Awards.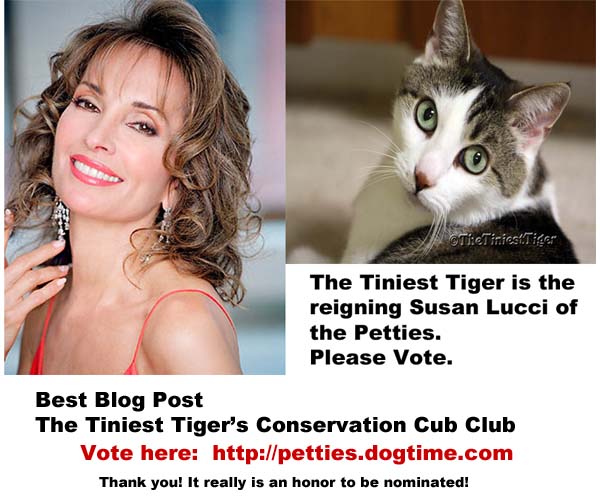 Truly an honor to be nominated. It is also nice to win!
All the nominations reminded me of the beautiful actor Susan Lucci. Susan was nominated many times but did not win an award.  Even though it truly is an honor to be nominated, it is also nice to win.  This year I am asking you to help me, the reigning Susan Lucci of the Petties, to finally win the award.
We can win $1000 for our cousins in need!
You can vote every day until the end of July and I know that is a lot of voting so I will try not to aggravate you too much.  I will be placing a tab on our The Tiniest Tiger's facebook page to make it easy for you to vote too.  When we win we will be able to donate $1000 to our cousins in need.
I want to give a shout out to our friends that are also finalists in the 2012 Petties.
Best Dog Blog Preston Speaks
Best Use of Social Media dogtipper.com
Thank you for your support!