Super Hurrah and Congratulations to Miranda! Our winner of the CritterZone Air Naturalizer!
Say Farewell to the Smell!
In March when we returned from Global Pet Expo we talked about the amazing CritterZone Air Purifier. This compact, filter-less, chemical free air purifier is a must for all cat parents.
Now that we have tripled the potential for cat box odors we remain amazed at the power of the CritterZone.  We are so happy with ours, that in honor of The Tiniest Tiger's Anniversary we are giving away a CritterZone Air Purifier to one member of The Tiniest Tiger's community.  Gracey would have said Super Hurrah!!!  To read our original product review of the CritterZone with more details about this fabulous product Pounce here:  Cat Parents Save $10 on Amazing CritterZone Air Purifier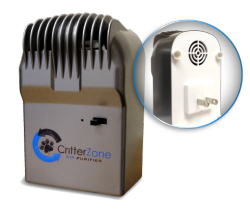 Do You Want One Now?  Here is How you can get $10 off the Retail Price!