The Tiniest Tiger Talks at Science and Literacy Night
I had so much fun and met so many new friends last week when I visited  Denver Elementary during their first Science and Literacy Family Fun Night!  The school planned this great event so that families could see that science and reading are not only important but can be fun too!  There were many activities during the event, children and their parents made recycling boxes, learned about water pollution, made alphabet books and got to eat Ants on a Log!
And my mom and I got to listen to all the great Adventures of Gracey stories the children wrote after reading our book The Tiniest Tiger
.  Each classroom had The Tiniest Tiger book read to them and then first grade teacher Mrs. Randolph  made little flat Graceys for the students to use as inspiration for their very own Adventures of Gracey stories.
I was thrilled to hear all of these great stories.  Some of the students wrote stories about me when I was very good and some of the students wrote stories about me when I was very bad, or as one student said, "Gracey made bad bad and bad choices!" We wanted to share with you a few of the Adventures of Gracey stories, because we thought you would love them as much as we do.
Good Gracey Stories!
First, I am sharing with you the adventure stories where I am good.  This first story was written by my friend Gracie. She did a great job capturing my true nature too because  I think recess would be my favorite subject after science.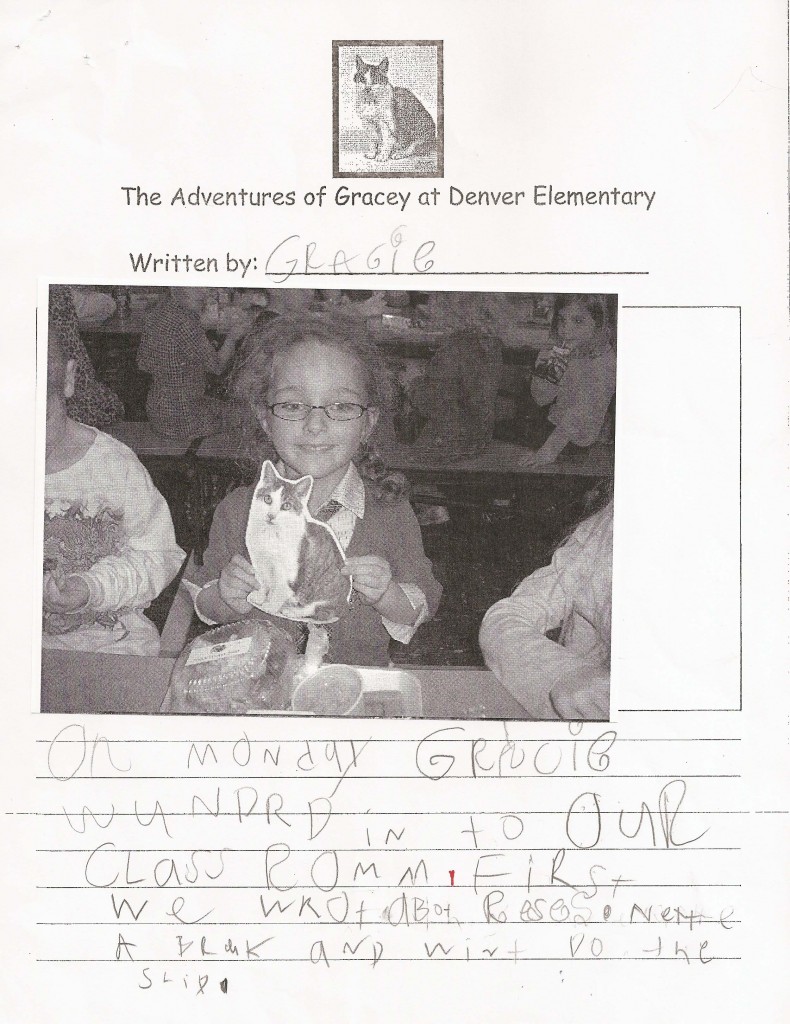 In this next story, my friend Sophia and I have fun on the playground. She likes me and thinks of me as part of her family.  Sophia is so nice she even turns on the lights for me because in the story I am afraid of the dark.
Bad Gracey Stories
Some of the students stories portray me as a  cat that makes bad bad bad choices.  hahahahahaha!  These stories are also very entertaining.  I thought you might like to read them too.  In this first Bad Gracey story, our friend Blaine tells a tale of how I make a mess in the lunch room.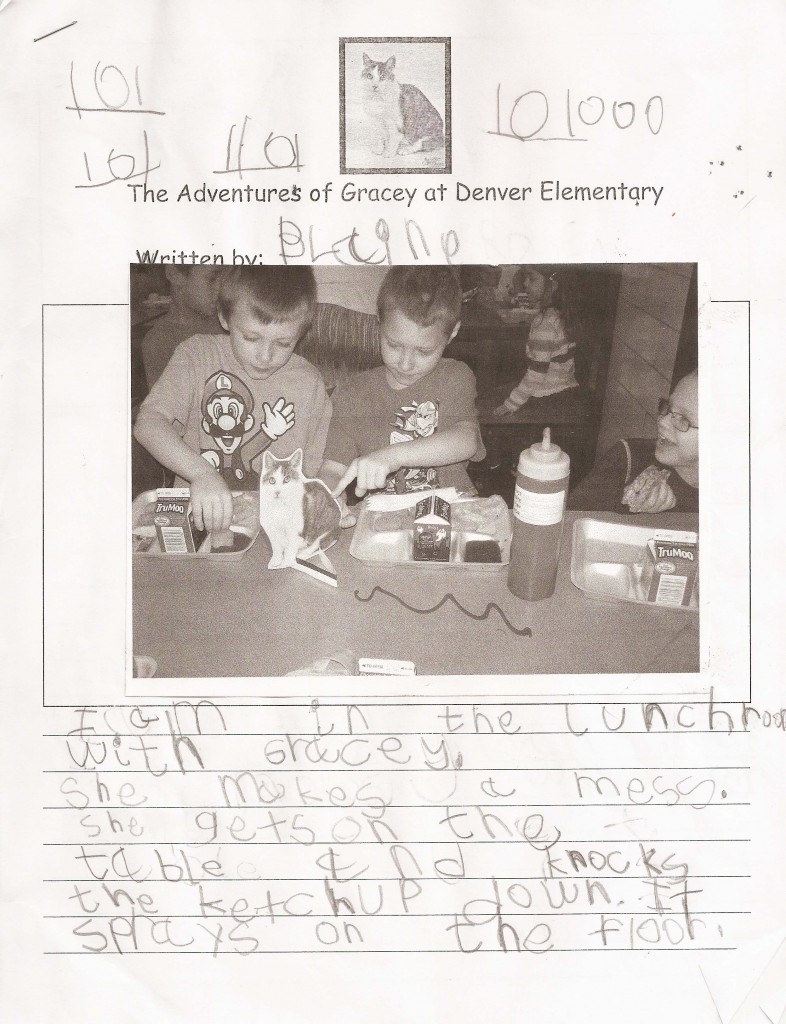 Look at my innocent face. Do you think I made that mess?
In this next Adventure of Gracey at Denver Elementary, our friend Dylan  writes that Gracey the cat made bad, bad, and bad choices. Then I started being mean to people and started breaking glass.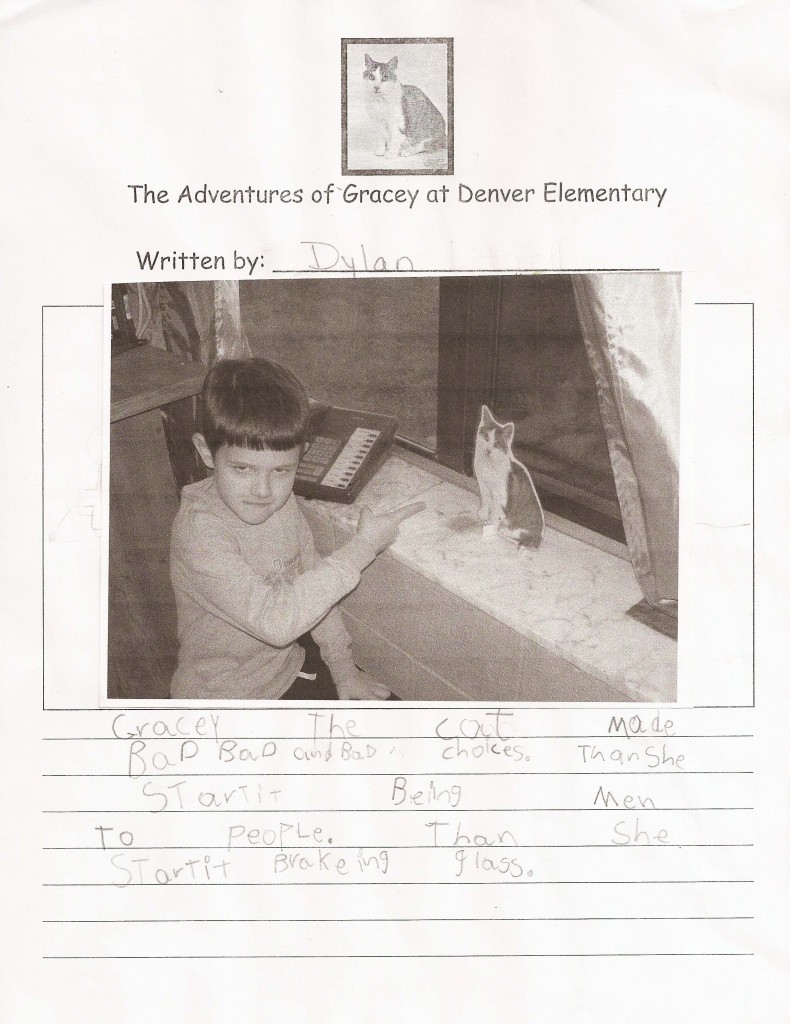 Dylan has a great imagination doesn't he?
In this next story,  our friend Harley tells about how I follow him into the library where I  break the computer and telephones. I then scratch the curtains and mess up the other computers.  In this story I am a badly behaved cat.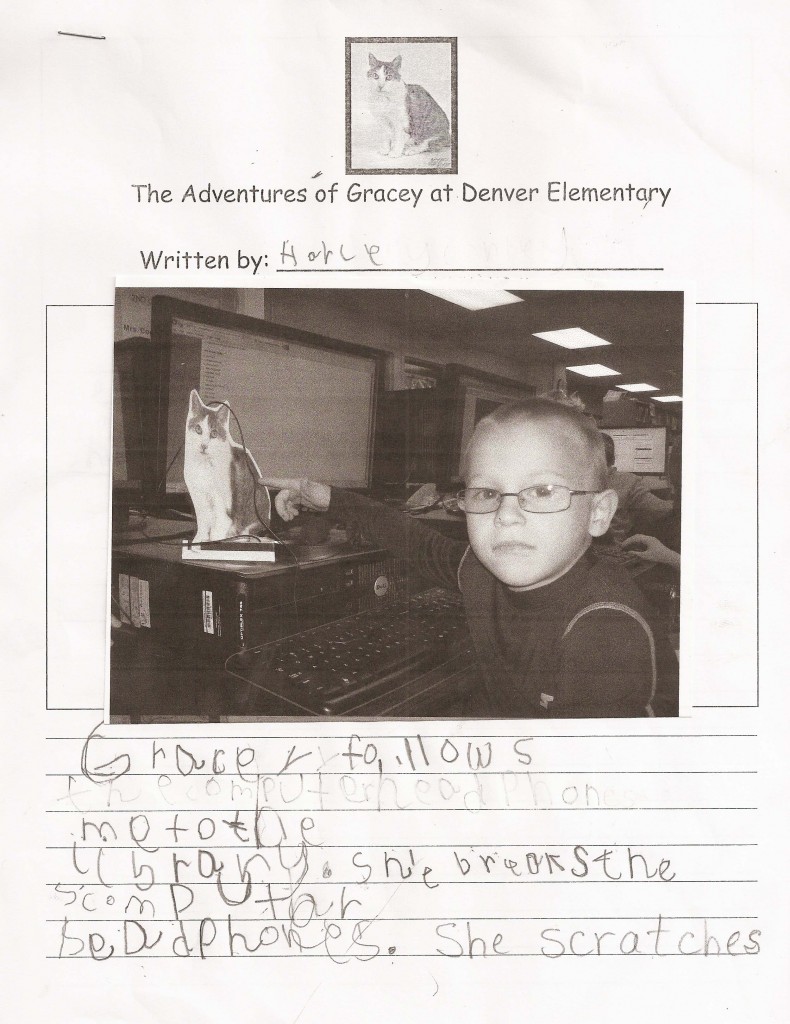 Harley looks quite serious doesn't he?
Now I know we cats are apt to tip toe across computer keyboards, but I think any broken computers are simply accidents.
I hope you enjoyed the Adventures of Gracey at Denver Elementary too! The evening was a success too with 43 adults and 55 children for a total of 38 families! Everyone had fun adults and children and this cat too!  Thank you for reading the stories.