The Life and Legacy of Dr. Alan Rabinowitz
The global wild cat conservation community mourns the loss of one of the world's most visionary and widely admired wild cat scientists, Panthera founder, Dr. Alan Robert Rabinowitz.
Panthera CEO and President, Dr. Fred Launay, stated, "The conservation community has lost a legend. Alan was a fearless and outspoken champion for the conservation of our planet's iconic wild cats and wild places. As a lifelong voice for the voiceless, he changed the fate of tigers, jaguars and other at-risk species by placing their protection on the agendas of world leaders from Asia to Latin America for the very first time."
Launay continued, "Inspiring a generation of young scientists, the boldness and passion with which Alan approached conservation was captivating and contagious. While we are devastated by his passing, we are comforted by the fact that his extraordinary legacy of advocacy for the most vulnerable creatures will live on in his legion of students and followers."
"Our thoughts are with Alan's wife Salisa and their children, Alexander and Alana, for whom Alan was a real-life superhero."
Panthera Chairman and Co-Founder, Dr. Thomas S. Kaplan, stated, "For those who became part of his astonishing and inspiring journey to save the big cats and their ecosystems, the impact of experiencing the intellectual and animal spirits that defined Alan Rabinowitz was, not unlike the moment one sees a big cat in the wild, simply unforgettable."
"Through the young people whose talents he galvanized and mentored, standing upon Alan's broad shoulders and implementing his vision, the trajectory of cat conservation that Panthera has succeeded in changing for the good will endure and indeed thrive."
"My wife Daphne and I express our supreme gratitude for the life-changing partnership and camaraderie that he brought to our lives, and pledge to keep the abiding faith that he never lost and always inspired."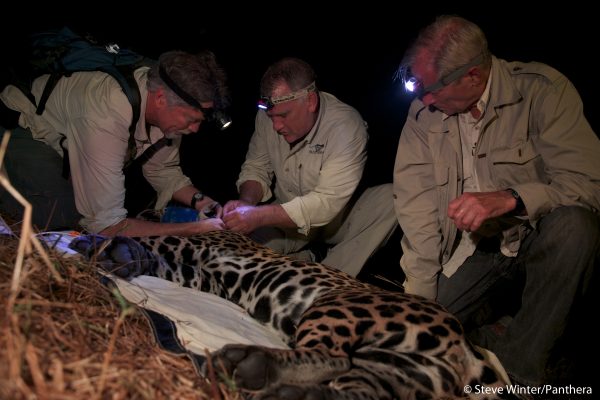 In a career spanning more than three decades, Dr. Rabinowitz was, above all, a protector and global advocate for wild cats and other threatened wildlife, the diminishing lands in which they roam, and the often impoverished people living near these cats and other wildlife.
Among a lengthy seminal list, some of his crowning conservation achievements are the conceptualization and implementation of Panthera's Jaguar Corridor Initiative, an unprecedented effort to connect and protect jaguars from Mexico to Argentina, and the establishment of the world's first jaguar sanctuary in Belize. Forever in awe of the magnificence of the tiger – the world's largest cat – Dr. Rabinowitz achieved victory after victory for the species, including the creation of the largest tiger reserve, the Hukaung Valley Tiger Reserve, in northern Myanmar.
Panthera CEO Dr. Alan Rabinowitz's Lifetime Achievement Award Acceptance Speech.
Please take a moment and listen to Dr. Rabinowitz's acceptance speech for the Lifetime Achievement Award at the Jackson Hole Wildlife Film Festival in 2011.
Panthera CEO Dr. Alan Rabinowitz's Lifetime Achievement Award Acceptance Speech – 2011 Jackson Hole Wildlife Film Festival from Panthera Cats on Vimeo.