One Lonely Tiger
One lonely tiger is wandering a massive wildlife sanctuary in Southeast Asia calling for a mate, but her calls are unanswered. There is no male tiger in the territory.  In fact, she is the one lone tiger inhabiting the sanctuary.
This tiger known as 197F and her brother grew up in a wildlife sanctuary, protected by anti-poaching patrols.  Even though their home was safe with access to food, tigers will be tigers, so they set out to find their own territories with fewer protections.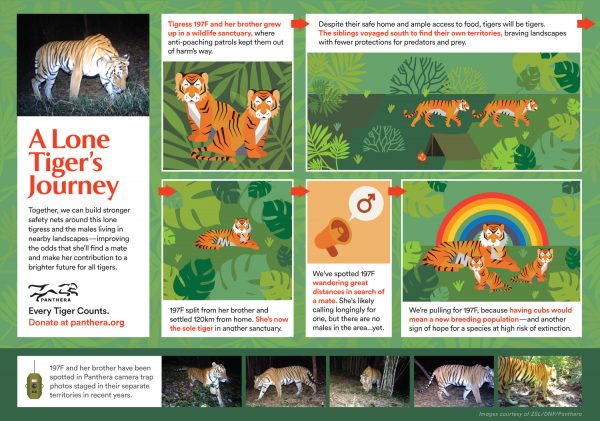 Panthera has been paying close attention to 197F because science shows us that all the elements needed for tiger recovery are in her region.  There is plenty of space, prey and protections.
Alex Varga, Panthera's Tiger Programs Manager tells us, "If 197F finds the mate she's so desperately seeking, their cubs will soon spread out and claim new territory and mates of their own. As we've seen in many of our Tigers Forever sites, we can rebuild healthy populations of tigers, even where there are very few to start."
Every Tiger Counts
Panthera is sending resources to 197F's territory and surrounding areas where her potential mates are roaming.  By securing these critical passageways, there is hope to make it possible for three to five new populations of tigers to take hold in the region and begin a full-scale recovery.
Panthera plans to:
Increase monitoring of tigers, prey, and human activity in the area.
Train rangers to use the latest technology to document forest crimes.
Ramp up patrols at border areas to ID poacher access points and stage ambushes.
Seize motorbikes used by illegal loggers who often poach wildlife, too.
Reduce illegal activities in the park by providing viable alternatives to local people.
With only 3,900 wild tigers left on Earth, every tiger counts. This video produced for Global Tiger Day, tells us why getting lone tigress 197F a mate is so important for the tiger population in her area and what Panthera is  doing to make it happen.
The Tiniest Tiger Community Supports Panthera
The Tiniest Tiger community supports Panthera's Tigers Forever program. Thanks to your support of Triple T Studios, we were able to donate another state-of-the-art PoacherCam in honor of Gracey, The Tiniest Tiger and Global Tiger Day!
The PoacherCam
Adapted from Panthera's previous camera traps, the PoacherCam has a groundbreaking new feature: its motion-triggered detection system can now instantly distinguish between people and animals—the world's first camera to do so.
With an invisible infrared flash, the PoacherCam covertly captures human activities and sends images and locations to law enforcement officials in real-time via wireless networks. This revolutionary technology enables law enforcement officials and site security experts to identify, capture and prosecute poachers, saving the lives of big cats around the world. 
About Panthera
Panthera's Tigers Forever program maintains a razor-sharp focus on law enforcement: increased and well-trained boots on the ground and sophisticated conservation strategy and technology, including a PoacherCam that stops poaching before it happens. Their Tiger Team works across Asia to outfit and train anti-poaching patrols, prevent the setting of snares, influence policy to ensure stricter sentencing for poachers, establish community informant networks, monitor tigers and prey, and more.
In five of the Tigers Forever sites, tigers have increased: Rajaji, India; Manas, India; Tambling, Indonesia; Banke National Park, Nepal; and Parsa, Nepal. If these numbers increase to carrying capacities in all of their 17 sites, the planet's tiger population will increase by 22%. That would be amazing!