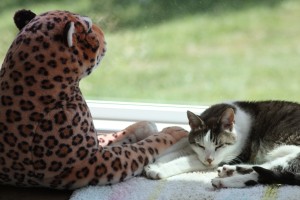 Good Morning Friends!  We had a full day yesterday didn't we?  We were part of Be The Change For Animals blog day.  So many wonderful pet people blogging to make a difference.  We are uniting our paws to make a difference with St. Francis Animal Rescue Center.  Thank you so much for your generosity for our cousins in need.  Already as of this morning, 25 Friends have donated thorough The Tiniest Tiger's ChipIn!
Yesterday we didn't even know our new Friend Peter yet by the end of the day, our The Tiniest Tiger Streak had reached out  to help him throw a rescue net for sweet Fanning in Texas. Peter was overwhelmed by the response.  His message box was overflowing with offers to help.  As of this morning, Fanning will be rescued and fostered until she will be transported to be loved in her Forever Home.  Hurrah!!
Friends, do you know what happens tomorrow?
I have been so busy that I have fallen behind in my preparations.  But don't worry, I have a few things ready for us.  Be on the look out for:
The Tiniest Tiger Plays Hide and Seek

The Tiniest Tiger's DaGracey Code

The Tiniest Tiger's Trivia
Now to get you warmed up....Who can tell me what happens tomorrow?
You MUST type your answer here in the comment section of  this post on the Conservation Cub Club.  Everyone that posts the right answer will be entered to win a copy of The Tiniest Tiger with my paw-tograph. and a photo of me, Gracey, The Tiniest Tiger.  We will choose the number at random.    OK?  Ready, Set…Pounce.
I will be back. Right now I am going to take a thinking break with my best buddy Lazy Leopard. Thank you everyone.  Meow for Now.