Once upon a time, I lived in another habitat with my older sister Hazel and my mom and dad. Hazel tolerated me being around, even though I don't think she was ever that fond of me before the break-in. I sure liked her being around because she wasn't afraid of anything, not a bug or a ~shiver~ spider not even the occasional bat that came to visit.  My dad wasn't too fond of the bats but that is another story. Hazel was a great protector of the habitat.
One day while Hazel and I were chomping chow after a rough day of napping, chasing and hissing the most unusual thing occurred.  Right above my feeding station, there was a cracking sound in the ceiling and the next thing I knew…
This is what came falling out of the ceiling!
Hazel screamed Raccoon! And this really scared me because Hazel never screamed and I didn't even know what raccoon meant!  I was frozen in fear.  Then Hazel said, "Gracey follow me!" and we ran super fast into the living room squeezing ourselves behind a  giant mirror in the corner of the room.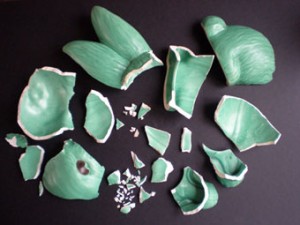 While  hiding behind the mirror, we heard a loud crash.  We could hear scratchy sounds in the kitchen and I thought I heard that raccoon chomping my chow. This was horrible.  Then we heard the  click click click of his claws, as the raccoon ran through the living room when he heard my mom's keys at the kitchen door.
We heard her set her purse and keys on the table, and then "Gracey!"   I always got the blame for broken pottery.  Hazel never even got questioned, she just assumed it was me that broke things.  Well ok, it usually was me that broke things but even so, it could have been Hazel.
She came looking for us, finding us together behind the mirror.  She started to laugh.  I don't know why, this wasn't funny.  She said, "Well, look at the two of you." I have to admit that Hazel and I were not typically huddled up together behind the mirror.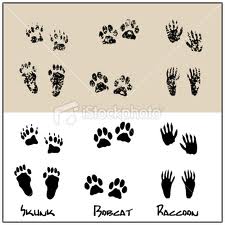 She went back to the kitchen and we heard her say. "hmmm, these paw prints look big."  She measured the dirty paw prints and then came to inspect our paws.  "That is strange" she said. "Those claws look so long in the prints you left on the counter. Gracey, why did you have to break my favorite piece of green pottery?"  You see, she didn't even ask which one of you broke my favorite piece of green pottery. ~sigh~
Then she sat down on the sofa to listen to the news. After about five minutes, it seemed like five hours, that raccoon rolled one of our toy balls across the wood floor.  Well you should have seen my mom's face. I would have laughed but I was too terrified.  She looked over at Hazel and me. We had come out from behind the mirror but were still sitting together in the corner. Then she slowly turned to look in the direction of the rolling toy ball still tinkling across the floor.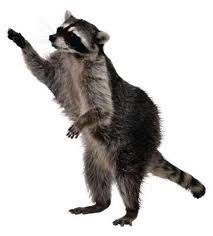 My mom jumped up and screamed and when the raccoon heard her, he jumped up and screamed and it was just awful!  I started to shiver. I saw the raccoon bolt into the exercise room and my mom ran after him closing the door behind him.

My mom looked at us and said "oh my gosh, oh my gosh, oh my gosh" Then she picked us up, one in each arm, kissed our heads, and  placed us on the bed in the bedroom.  She looked us all over to make sure we were alright.  She looked so scared.  Then she closed the bedroom door to keep us safely inside.
By now we could hear the raccoon shaking the door trying to get out.  ~oohhh, that was scary~
My mom called Joe, The Raccoon Whisperer.  He came right away with a giant cat carrier and a pole. Joe whispered to the raccoon and guided him into the carrier with the pole.  Joe said he was a big boy and then  took him to be released into the Wayne National Forest.
My mom scrubbed and cleaned, scrubbed and cleaned.  Hazel and I got new food bowls too. When my dad came home, he was shocked to hear what had happened.  He replaced the ceiling tile where the raccoon fell through onto my chow chomping area. He asked if the raccoon hurt anything and my mom said, not a thing. (ummm the green pottery?)   Then she said the raccoon had pooed on the treadmill.  They laughed saying  well at least someone used the treadmill.
Everything went back to normal at our habitat after the raccoon went to live in the forest.  I do suffer from post traumatic stress disorder though.  I really do.  I need my parents to stand behind me while I chomp chow.  When they put fresh chow into my bowl, they have to pet me from head to tail several times to calm me down and to get the falling raccoon image out of my head.
Once on the way home from the ~Morris Veterinary Clinic~ we saw a raccoon family walking along the side of the road.  My mom said, "Oh boy, I hope they are not coming to our house."
No way any raccoon can fall through our kitchen ceiling now that we moved to our new habitat.
I still got blamed for the broken piece of pottery though.
That is my raccoon story.  Sorry it took me so long to tell you.   Did you like it?