Congratulations to Haley and Jan! You are The Tiniest Tiger's Whoops! Wednesday Winners! Everyone that posted a comment was entered. The winners were chosen by a random number generator!
My mom and I are both left pawed so I bet we will have another Whoops! Wednesday in the future. You know the ink sort of smears…things like that.
Thank you everyone for all of your Whoops! stories.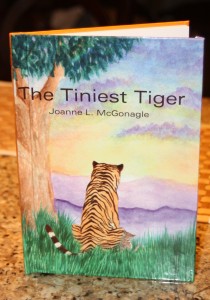 Happy Wednesday Friends! I am calling today Whoops! Wednesday. My mom and I were cleaning the office and we found some copies of The Tiniest Tiger and when we looked inside the front cover, we said "Whoops!"
I will show you why.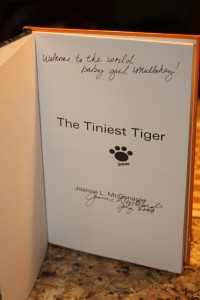 Inside this copy the writing is very nice.  You can read the writing and it is flowing the way it is supposed to flow.  My paw-tograph is nice and solid too.
Now here is an example that made us say Whoops!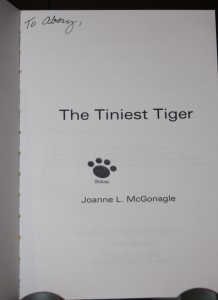 Even though my paw-tograph is nice and solid.  My mom meant to write the name Avery but for some reason her left paw wrote Abery. Whoops!
Here is another example.
Here my paw slipped while trying to paw-tograph this copy.  I tried to make it better with a second paw-tograph but it just made the messy one look even messier!
Whoops!
So we have decided to have The Tiniest Tiger's  Whoops! Wednesday
Today we will be giving away 2 copies of The Tiniest Tiger that are Whoops! copies.
There is nothing wrong with the books other than  a little messy hand writing and/or maybe a slipped paw-tograph.
If you would like to win a Whoops! Wednesday copy of The Tiniest Tiger
Leave a comment here on our Conservation Cub Club below this post telling me something little you did that made you say Whoops!
I will announce the winners on
Thinking About Tigers Thursday!
(that is tomorrow)