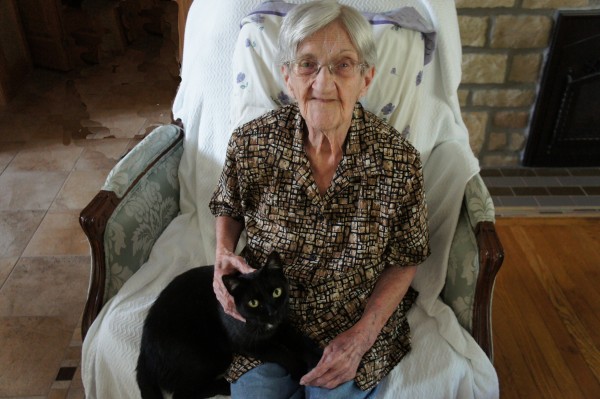 Last week we said goodbye for now to Paul's mom.  Friends of The Tiniest Tiger know that Paul's Mom, who liked to be called Tootie, and her cat Mercy came to live with us a little over two years ago.  She had suffered a broken shoulder after a fall and decided  she no longer wanted to live alone.
We rearranged some furniture and made sure to have the newspaper delivered for her to read every morning.  Mercy got along fine with Annie and Eddie, even though they were just kittens and he was 7 and used to being an only cat.  He adapted. We created some private perches for him to escape the kitten shenanigans.
Sunday mornings were quiet and spent reading the news.  This is one of my favorite photos of Paul and his mom reading articles on the computer and iPad.  Annie seemed more interested in the comics section from the Sunday paper.
She loved to do word puzzles and spend time with Mercy in the sunroom. I am not sure who enjoyed the birds on the feeder more, Tootie or Annie.  Some days we were lucky enough to have a gorgeous fox visit. There were often white-tail deer, groundhogs, squirrels and raccoons but Tootie loved the little curious chipmunk that entertained her just outside the window.
We placed a small recliner by the fireplace to help keep her warm.  Annie loved to lie on the floor in front of the fireplace beside her recliner.  When Tootie wanted me to turn on the fireplace, she would say with a twinkle in her eye, "The cat would like you to turn on the fire."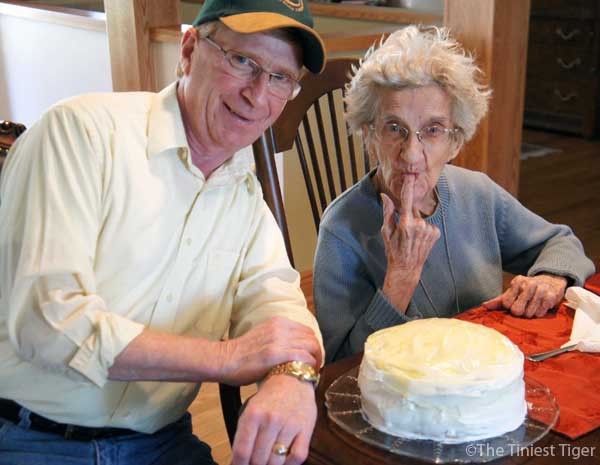 Tootie loved lemon pie, cookies and cake.  Another favorite photo shows her tasting the lemon icing on Paul's birthday cake.  Paul's favorite cake is chocolate, but we made lemon anyway for his mom.
Tootie loved checking out the jewelry that arrived for Triple T Studios. Her favorite was the My Heart Cat necklace and she wore it all the time.  When this necklace arrived, her face lit up and she said, "Could I buy one of these necklaces?"  I said no, but you can sure have one as a gift.  She was so happy I took this photo and sent it to Paul at work.
One day in the late afternoon, Tootie thought she might like to have a glass of wine. So we sat at the kitchen counter and enjoyed a nice glass of Pinot Grigio together. When Paul came home from work, he said, "Is this what goes on here all day?"  Tootie answered, " So what if it is?"
During her time with us, we tried to make her laugh  and if we didn't Annie, Eddie and Mercy accomplished this every day.  Tootie loved watching them play and romp around the house.  There wasn't much time during the day where she wasn't being kept company by one of the cats.  She loved them and they loved her right back.
In the care of hospice, Tootie looked at Mercy's picture, smiled from ear to ear and whispered, "that's my baby."  Paul smiled and said, "What about me?" and she said, "You too.  I love you." He squeezed her hand and said. "I love you too."
There is never enough time no matter how much time we are given.