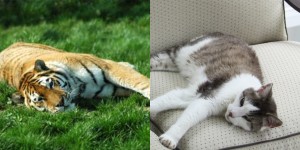 Friends, even though the days of the week fall the same every single week, sometimes I lose track of them.  So here it is Thursday already and I am just now posting my latest, greatest The Tiniest Tiger's Tiger Tuesday Imitation.
I am especially nervous about my newest imitation because last week's imitation caught the attention of   TPPC.tv!  TPPC.tv is a  Blog for Pet Lovers, Woofy Woo! Pet News, Celebrity Pet Gossip, Dog & Cat Stories and Exclusive TPPC.tv Pet Web TV News for Insiders! In fact they picked TTT's Conservation Cub Club as the Pet Blog of the Week.  ~exciting~
So I now present to you my latest Tiger imitation. Notice the same leg placement,  half opened eyes and the tilt of our heads.  Boy I really made it tough on you today.  But just in case you think I look too thin and that gives away the answer, make sure that you suggest  to my parents that they feed me a little more vanilla ice cream.
OK, take your time, relax and try to decide whether I (me, Gracey, The Tiniest Tiger) am on the left or the right.  God Luck Everyone!