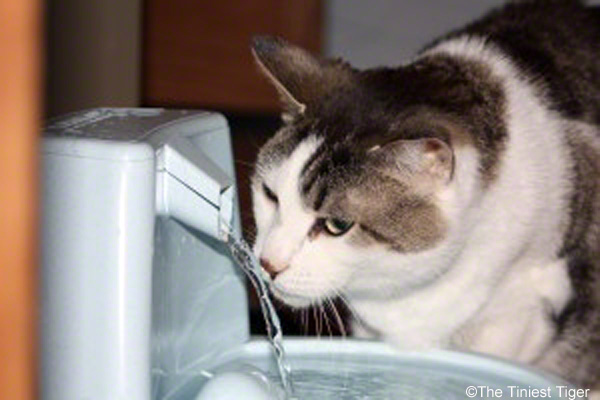 All Cats Need Water
There are two hydration tests your cat needs now to make sure they are hydrated.  All cats need water. Even though you might hear people say their cat never drinks water, or even say cats don't need water, we know this is not true and that all cats need water. Our wild cousins intake water when eating their prey but they also seek out watering holes.  Domestic cats sharing their homes with humans are descendants of the African Wildcat, but the life style and domesticated adaptations make their needs different. Most house cats are not surviving off of their hunting skills.
House cats benefit by drinking more water especially if they are eating a dry kibble diet. Cats consuming wet food do get more water from their food but still need to have a separate water source. Our cats have an electric water fountain and a bowl of fresh water by their food station.
Two Hydration Tests Your Cat Needs Now
There are two simple hydration tests you can do at home to make sure your cat is getting the water they need.  We  perform both of these tests on our cats quite often. They are not painful or difficult to withstand.
1) The Skin Test
Carefully lift the skin on your cat's back into a "tent" position, and let it go. If the skin bounces right back, your cat is hydrated.  If the skin stays in the "tent" position  after you let it go or if the skin slowly returns to its normal position, your cat needs more water and might be dehydrated. You should check with your veterinarian.
Cats can become dehydrated quickly so  you should do  this test on a regular basis to establish what is normal for your cat.  I get this test everyday at least once.  That's right, helicopter parents.  Although to be fair, I receive  insulin injections so they do have a reason to be checking on me more often.
2) The Lip Test
Carefully lift your cat's lip, and check the inside. If the surface is moist, your cat is hydrated. If it's sticky, your cat needs more water.  If your cat is super fussy about having their mouth touched, exercise caution. Cat bites are most unpleasant.
If your cat is not fussy you might also try gently pulling  the cat's lip away from the  gum and pressing a finger against the gum until the area whitens. When you release your finger the color should return immediately.  A delay in the return of the healthy pink color could be an indication of dehydration.
Dehydration is a serious issue for cats.
Cats can become dehydrated if they have an illness and are running a fever, or are exposed  to extreme heat.  Cats do not have sweat glands to keep them cool so they pant in an effort to regulate their body temperature. A panting cat is a hot cat, and this is an indication for you to take quick action to get your cat to a cooler environment and make sure they are drinking water. Dehydration is a serious issue for cats.  If you suspect your cat is dehydrated seek medical attention at once.
I really like water. I drink from my fountain and from my bowl several times each day. Sometimes I like to splash water with my paw too. I wanted to show you how much I like water so I made a short video for you.
Here is my Ahhh Water! video.
[youtube]http://www.youtube.com/watch?v=-yY8fZbzB88[/youtube]
A licensed veterinarian should be consulted for diagnosis and treatment of any and all medical conditions. The information provided is for a routine everyday hydration check and should not be used during any medical emergency or for the diagnosis or treatment of any medical condition.