Friends, I have something very serious to talk about with you. It is the water crisis in Kenya.
Imagine being super thirsty. Then imagine that you can't just go to the faucet, the fountain or reach for a bottle of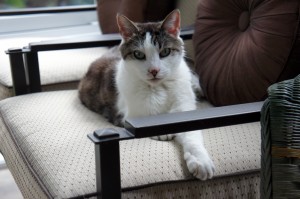 water. Imagine that you are tired and feeling desperate because there is no water for you and that you might have to walk for hours and even a couple of days to reach a water source.  Imagine you have small children dependent upon you in this desert, with no food or water and you have to walk for days in search of relief.
Take a moment and try to Imagine
There is a water crisis in the Horn of Africa.
Right now an estimated 10.7 million people in Ethiopia, Somalia and Kenya are trying to survive the worst drought in 60 years.  Families are forced to walk as long as 30 days to find food and water. Herds of livestock, the primary livelihood  for many of these families, have perished in the drought.
I know these numbers are overwhelming. And it is not your fault if you can't comprehend the enormity of the crisis.  According to an article by Paul Slovic "If I look at the mass I will never act": Psychic numbing and genocide, when a humanitarian crisis is massive, our ability to experience affect, may not trigger but actually go numb. Affect is the sense, it can be intuitive and not conscious, that something is good or bad. In addition to good and bad, the subtle feelings like empathy, sympathy, compassion, sadness, pity and distress are necessary for you to motivate to help others in need. Research shows that no matter how large the numbers, the number alone fails to relay the impact of the crisis.
According to Samantha Powers, when a crisis reaches epic proportions, bystanders go into survival mode and are able to "retreat into the twilight between knowing and not knowing." This  might happen because it is just too painful to truly wrap your mind around the enormity of the suffering so as a measure of self protection, we grow numb and glaze over the problem, knowing that it exists, but not feeling the punch needed to take action.
It is also easy to glaze over the water crisis when the news media largely ignores the problem. You might hear a soundbite hear and there, but for the most part the crisis goes unreported.  And I suppose these stories are not popular and the news is really not about the news any longer but about what the data shows  the majority of people want to hear. Sadly, this seems to be the excesses of the Kardashian wedding. This wedding story took the majority of the first minutes on the Today show one morning, the water crisis was not mentioned.
Friends, I know we are confronted with random disasters every day, and our hearts are at risk from breaking if we allow ourselves to grieve so much.  Barbara Kingslover  eloquently makes this point in her book High Tide in Tuscon:
"We didn't evolve to cope with tragedy on a global scale. Our defense is to pretend there's no thread of event that connects us, and that those lives are somehow not precious and real like our own. It's a practical strategy, to some ends, but the loss of empathy is also the loss of humanity, and that's no small tradeoff."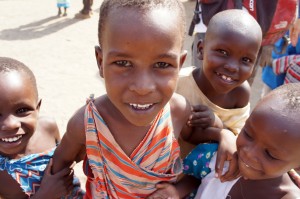 For the first time, I am asking if we can unite our small paws to make a big difference in the lives of  humans, our friends in northeastern Kenya. I know that it seems overwhelming and we can not help everyone but can we provide a truckload of water? Just one truckload of water? We can make a big difference in the lives of a few.
These are a few of the children that my mom met while in Kenya last month. They do not live in the northeastern part of Kenya but in the South Rift Valley of Kenya.  Can you see the sparkle in their eyes?  Now imagine the children in the drought stricken region, with no sparkle left in their eyes.
I know you might be thinking but Gracey, there are so many problems right here at home, and I know that is true. But something compels me to ask you to help me. Perhaps because their  immediate need is so basic, it is water.  All  these families have left is hope.  No other assets remain, only hope.
If you are able to give, no amount is too small here is the link to The Tiniest Tiger's Africa Hunger Crisis page.
Here is why we chose Mercy Corps.
[vimeo]http://vimeo.com/25639092[/vimeo]
Thank you for listening and for being my Friend.