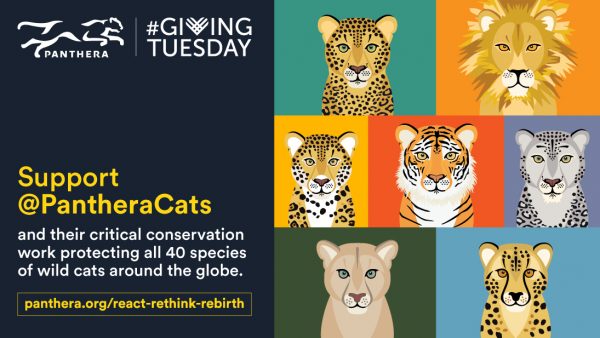 Wildcat Ambassador Teams
Do you want to be a Wildcat Ambassador? Are you curious about what is the best way to be voice for wildcats? How to best use your skills and talents to inform and persuade others into caring for and taking action to save wild cats?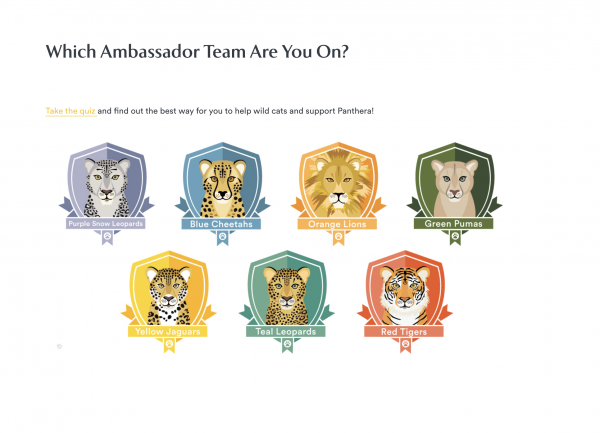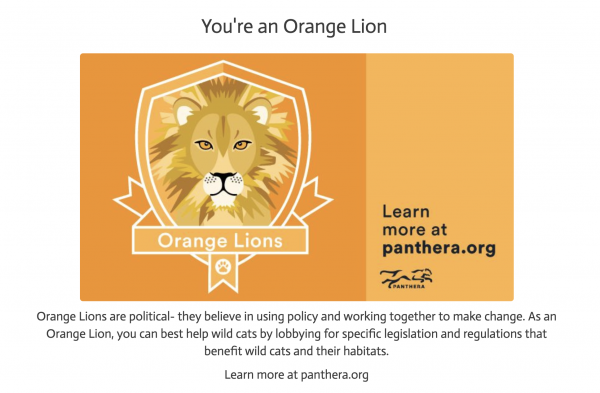 Panthera created a quiz to help you realize how you can best support wildcats. I am an Orange Lion! Orange Lions are political- they believe in using policy and working together to make change. As an Orange Lion, you can best help wild cats by lobbying for specific legislation and regulations that benefit wild cats and their habitats.
You can take the quiz too, just pounce here: Take the Wildcat Ambassador Quiz
Easy Wildat Ambassador Action
Get started now! Use the copy below to tweet Panthera's message or click this link to automatically generate a tweet!
Or cut and paste the copy below!
This #GivingTuesday I'm supporting @PantheraCats and their critical efforts to protect #tigers, #lions, #jaguars and all 40 species of #wildcat around the globe. Sign up to learn more about this #conservation organization here: https://bit.ly/35q2kbq #ReactRethinkRebirth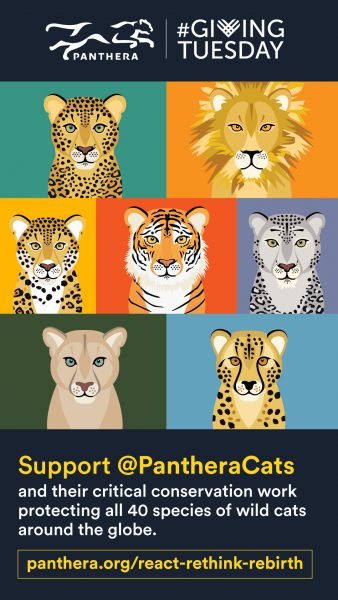 Panthera's Work
Panthera is the only organization in the world devoted exclusively to the conservation of the world's 40 wild cat species and their ecosystems.
Utilizing the expertise of the world's premier cat biologists, Panthera develops and implements global strategies for the most imperiled large cats: tigers, lions, jaguars, snow leopards, cheetahs, pumas, and leopards.
Representing the most comprehensive effort of its kind, Panthera partners with local and international NGOs, scientific institutions, local communities, governments around the globe, and citizens who want to help ensure a future for wild cats.
Panthera's grants program, the Small Cat Action Fund (SCAF), additionally supports conservation and research initiatives on many of the smaller wild cat species around the globe.