Happy Week-end!
We have a lot of activity in our habitat in preparation for the holiday.  One of the activities is the Wearing of the Ears.  I will show you what I mean.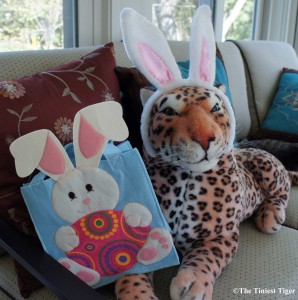 Here is my good pal Lazy Leopard wearing the bunny ears.  As you can see, Lazy Leopard is quite a ham. When I say ham, I mean that he is quite the actor and not a part of a pig's anatomy.  He actually enjoys a good costume.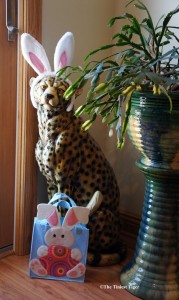 Here you can see Bad Kitty being a good sport as always.  Nothing seems to raise the fur on Bad Kitty's back.  He is always super smooth and cool.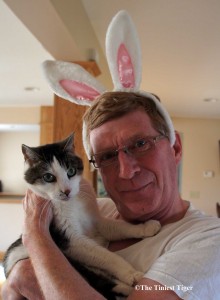 Speaking of good sports, here is my dad wearing the bunny ears.  All I can say is, those ears look better on my dad than on me.
Then, my dad said, "Gracey I think it is your turn to wear the bunny ears!"  Can you believe that?  So I said  No, no I don't think so and I squirmed with all my might. And just when I started to relax on the counter chatting with the Easter Bunny…
Well, I guess this is the price I pay for sneaking up  onto the counter.
Do you wear bunny ears in  your habitat?  If you don't have any, I know where you can get a pair.
I hope you are having a wonderful holiday week-end!