9 Things I Love About Gracey
I am a cat parent!  This month Petfinder launched a campaign to help break down the stereotypes about cats and the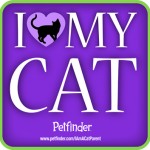 people who love them.  Even though cats outnumber dogs in the United States, feline family members are often thought of as second-class pets.  Many people still believe that cats are aloof, not able to be trained and of all things….unlovable!
I say anyone that thinks this about a cat has never shared their home with  a cat.  Our Gracey and Mercy are members of our family and we are fortunate to get to share our lives with them.  I wanted to take a moment to tell you just 9 things I love about Gracey.  Of course, there are many many more, but I thought I would start with these.
One)

Gracey's Happy Face Greeting Me at the Door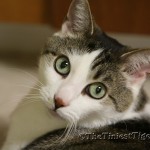 Even on the most trying of days, when my key hits the door and I see our little girl running to greet me with her tail straight up with a curl, all the day's troubles just melt away and I feel  warm and happy seeing  her sweet face.
Two)

Chatting About Her Day

First thing I do when I get inside the house is say hello to Gracey and ask her about her day and she usually has a lot to say.  Gracey is a talkative cat and I think she is telling me what happened while Paul and I were out leaving her in charge of the house.  I love to hear her tales of the day while we walk together into the kitchen.
Love at First Purr!
You Had Me At Meow! by our good friend and artist Missy Johnson caught my eye and it was love at first purr.  Missy is  the creative force behind Dogs for the Paws; art making a difference for animals. Even though the name is Dogs for the Paws, Missy cares deeply for cats too.  In fact, just like us, she loves all animals.   When I saw her You Had Me at Meow! I  became super excited because I thought you would love it too!
Missy Johnson, Artist and Creator of Dogs for the Paws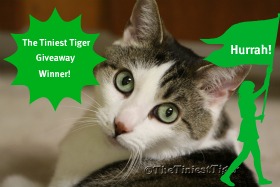 Congratulations and Supper Hurrah to our winners!!!!  We chose using randomizer.org because all the stories are so heartfelt and touching.  Thank you for loving all cats, big and small.
What do cats and aquariums have in common?
Aquariums reduce stress and anxiety
Both cats and aquariums have been shown to reduce stress and anxiety in humans.  That's right, research concludes that aquariums have the ability to lower blood pressure,  calm the nerves, and clear the mind.   Aquariums create a soothing environment and are thought to have a hypnotic effect on humans.
Lazy Leopard's One Minute Relaxation Video Test