Petcurean Helps Feed Cats at PurrEver Ranch Sanctuary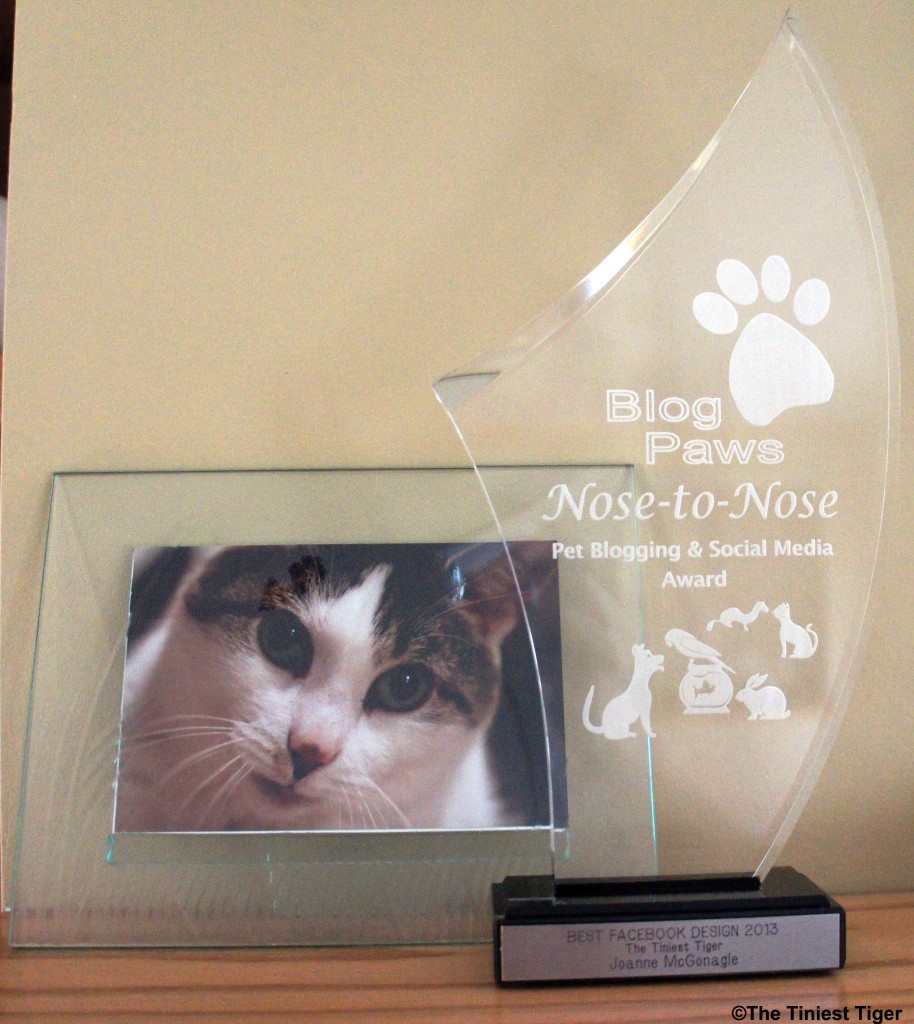 In May, the same weekend that we lost Gracey, we won the Best Facebook Award in the 2013 BlogPaws Nose-to-Nose Pet Blogging and Social Media Awards.  Pets Add Life, Natural Balance Pet Foods and Petcurean, were the official sponsors of the awards.  Pets Add Life provided the after party food and drink and Natural Balance and Petcurean each provided prizes for the winners with donations of 200 lbs. of food each (400 lbs. total) to the shelter/rescue organization of the winner's choice.
As you can imagine, winning was bittersweet for us, the award was announced not even twenty-four hours after losing Gracey. I was scheduled to speak at BlogPaws and am grateful  the pet loving community understood  why I couldn't be there. We watched the live-streaming video and cried when The Tiniest Tiger was announced. Our friend Carol Bryant accepted the award on our behalf . She did a wonderful job thanking everyone for us. Carol had the difficult task of announcing that Gracey had crossed the Rainbow Bridge.
 Let's Celebrate Together!  Ready? GO!
This past week when I was feeling blue, I got the most wonderful message from Rita at PurrEver Ranch Sanctuary.  I wanted to share it with you. Afterall, this award really belongs to you.  Without you, The Tiniest Tiger community wouldn't have been able to donate the 400 pounds of Petcurean GO! cat food to the "kittizens" at PurrEver Ranch.
THANK YOU The Tiniest Tiger for ensuring The Senior Kittizens will eat. AND EAT GOOD! Today we received over 400 lbs – 27 bags of Petcurean Pet Nutrition GO! Cat Food!!!
The Kittizens will be fine dining on this ALL Natural, Grain Free, Gluten Free GRADE A kibble. It is by far the best ingredients we have ever seen & is actually human consumable.
Thank you,  Annie, Eddie & Maggie for allowing your wonderpurr human to share her tender heart with us once again.
As a Senior Feline Hospice Caretaker, nutrition is everything. Because of you, The Kittizens will poop less & purr more. PURRFECT
We are deeply gratepurr & so very appurrciative.
Rita & "The Purr Herd"
Meet Eros, A Senior Cat at PurrEver Ranch Sanctuary
Hello, my name is Eros. I'm a Senior Kittizen & not feeling very well lately. Today I went to the Vet and got some some bad news but when I got home, The Tiniest Tiger had sent all of us a purr load of Petcurean Pet Nutrition GO! Cat Food. I don't like much but I GO! Cat Food. It is whisker licking GOOD!
My caretaker thinks it might even prolong my life.
Because of your SWEET heart – mine & others will BEAT healthier.
Ps we don't do the poop scoop boogie as much anymore & boy am I gratepurr. These old bones are designed for purrs & sunshine.
Thank you for brightening my day.
Eros, the Senior Kittizens & Wayward Pussycats
Meet Ryder at PurrEver Ranch Sanctuary
My name is Ryder & I even tho I'm just a baby I got rescued by A Senior Pawpice. They eat old cat food… Today The Tiniest Tiger sent us some of Petcurean Pet Nutrition wonderpurr GO! Cat Food. It is DELISH in my dish! Now, we can all eat the same kibble & be good for all of us.
Our motto now is "More Purr Less Poop!"
Thank you for having a heart and keeping ours beating.
We Love GO! Cat Food!
Ryder, The Senior Kittizens and Wayward Pussycats
Awards and Voting and Thank you!
I know we all get weary and voter fatigue when we keep asking you to vote for the different awards.  But the real prize is when there is a donation attached to the award that helps out so many wonderful cats and their caregivers. Thank you for your patience through all of the voting requests.
The news from Rita came right when I needed to be reminded that small paws united can and do make a big difference.  I think Gracey is super proud knowing her cousins at PurrEver Ranch Sanctuary received so much wonderful food from Petcurean. And  Petcurean donated all 400 pounds of the food because the sanctuary is all cats. That was incredibly generous.
Wouldn't it be great if we pounced over to their Facebook page to thank them for their wonderful donation To PurrEver Ranch on behalf of The Tiniest Tiger's Facebook Award?
Click on the Petcurean logo below to leave a thank you.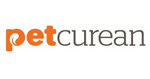 Related articles